When the Law Rides (1928)
Now it's written up in neon lights
I'm heading for the dizzy heights
- C. Scott & D. Dyer
Director: Robert De Lacy
Writers: Randolph Bartlett, Oliver Drake
Cast:
Tom Tyler as Tom O'Malley
Jane Reid as Becky Ross
Frankie Darro as Frankie Ross
Harry O'Connor as Henry Blaine
Harry Woods as The Raven
Charles Thurston as Joshua Ross
Bill Nestell as Snake Arnold
Barney Furey as The Little Man
Status: Lost
Length: 4898 feet
Tom O'Malley is a government marshal whose mission is to end lawlessness in the small town of Rawhide in Arizona. As he rides through the desert, he meets an outlaw known as Raven who, dying of thirst, makes the mistake of drinking poisoned water, and finally dies. Tom decides to switch clothes with the bandit, and enters the town alongside Joshua Ross, an itinerant preacher, and his daughter Becky. As he gets to know the outlaws wrecking havoc in town, Tom reports to the head honcho, who in turn thinks Tom should pose as a marshal in an attempt to clean up the town. Tom gets into a handful of scuffles with the outlaws who fight tough and ugly, and he certainly has no problem fighting on their level, which is what it takes to capture them. When Tom is not fighting with the outlaws, he is spending time with Becky, getting to know her, and falls for her pretty hard. At the same time, Tom helps Becky and Joshua establish a new church in Rawhide, and its location is unusual enough: the town saloon, as a symbol of justice taking over a place where the lawless spend their free time plotting evil deeds. While Joshua Ross delivers sermons, Becky plays the piano, establishing a safe and peaceful atmosphere for the townspeople.
Tom overhears the plans of the outlaws to rob the bank, which they successfully pull off, and disappear with the loot. That is not the end of it, however, when the robbers decide to frame Tom, claiming he is in fact an outlaw himself, not knowing he is a marshal disguised as an outlaw. With the help of his pal Frankie, the younger brother of Becky, Tom clears his name, traps the bank robbers, and marries Becky.
One feature worth noting about "When the Law Rides" is the number of horse mounts that Tom executes throughout the film: Trooper mounts, pony express mounts, flying dismounts, and many other risky mounts which fascinate the viewer. One incredible stunt Tom performs is swinging from a rope tied to the balcony of a hotel and mounting Flashlight from the rear, twenty feet below from where he started. Filming "When the Law Rides" took a bit of a toll on Tom Tyler, who soon after took a vacation in San Francisco. An interesting side note: James Dugan was originally slated to direct "When the Law Rides".
Taglines:
Back to the Days of the Flaming West Where They Fought it out Man to Man and the Loser Never Fought Again. (Warsaw Union, Warsaw, Indiana, November 3, 1928)
An epic story of men who dared to wear the badge of justice in a lawless land (The Honolulu Advertiser, Honolulu, HI, March 27, 1929)
Fighting through the lawless west with those daredevils of gun and saddle. (The Coos Bay Times, Marshfield, OR, October 30, 1928
Sources:
Motion Picture News, October 13, 1928
Variety, July 18, 1928
Exhibitor's Herald, December 24, 1927
The Hartford Courant, Hartford, CT, August 5, 1928
The Honolulu Honolulu, HI, March 27, 1929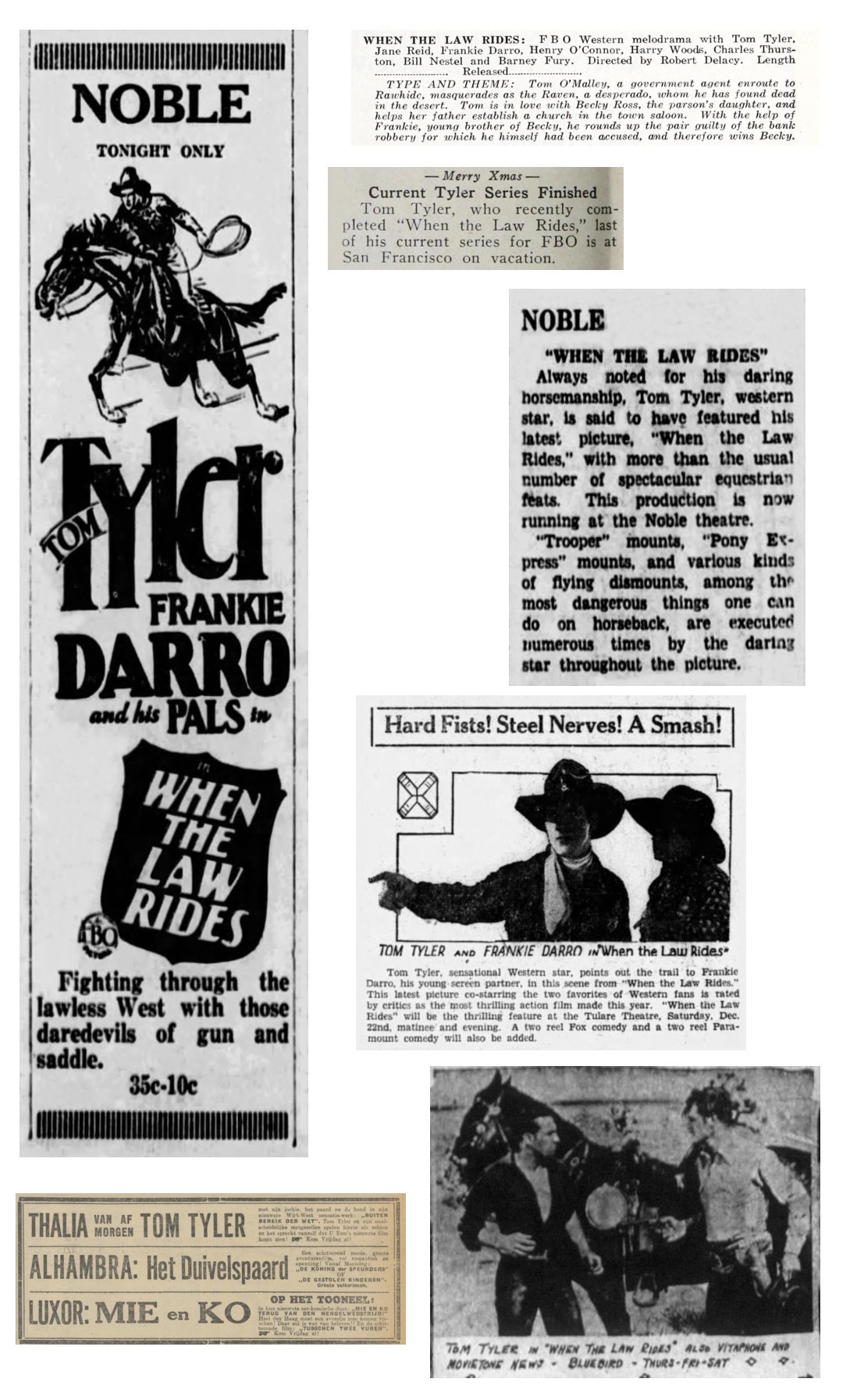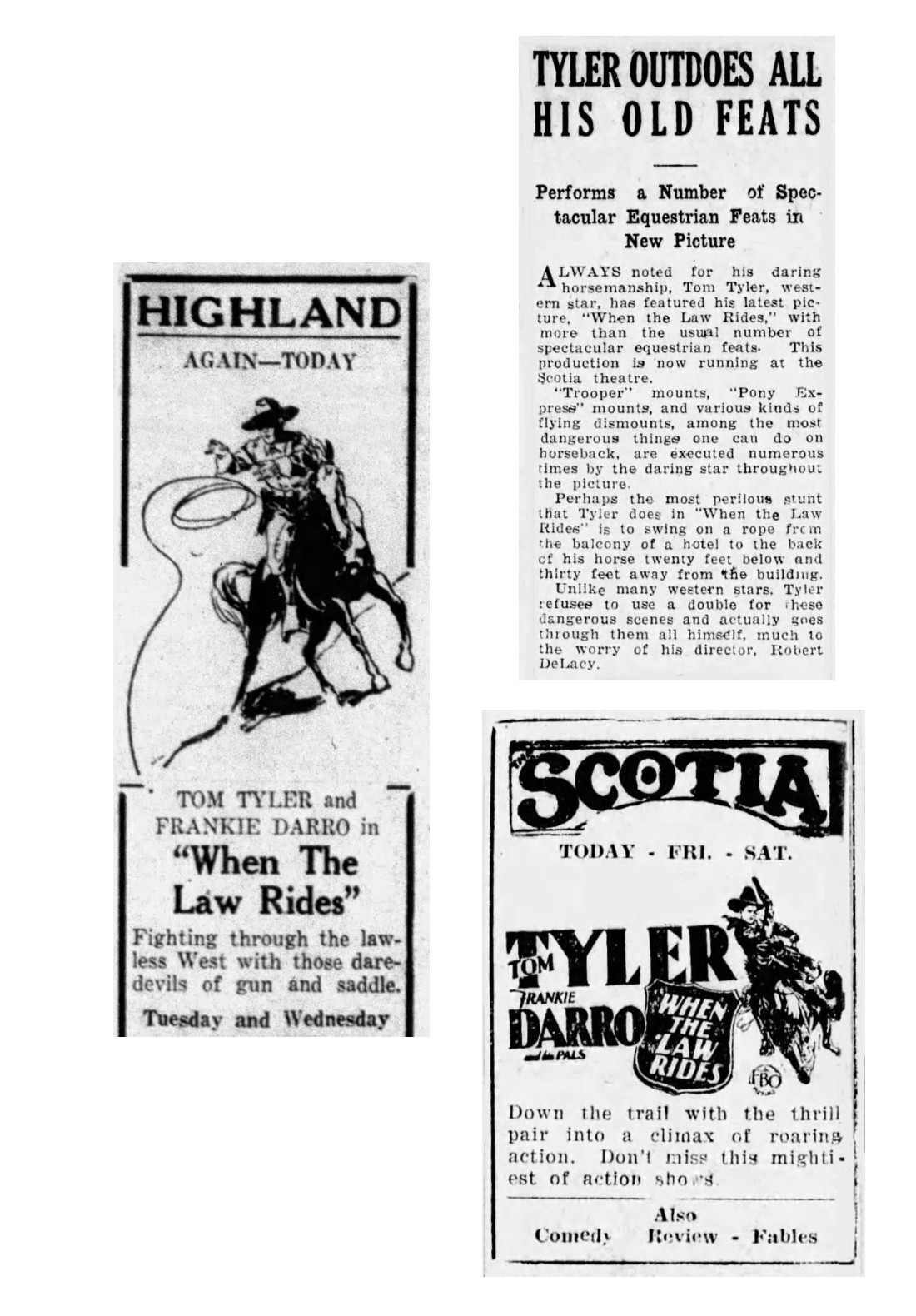 All composed text on this page is copyright Aventuras de Tom Tyler, 2018-2021.
No copyright infringement upon Tom Tyler's handsome face and gorgeous physique is intended. Neither is one intended upon his work. This website will always be ad-free and affiliate-free.

2015-2022 Aventuras de Tom Tyler