Flying U Ranch (1927)
Bring down the curtain
stop the show
- C. Scott
Director: Robert De Lacey
Writers: B. M. Bower, Oliver Drake (screenplay)
Cast:
Tom Tyler as Señor Miguel García
Nora Lane as Sally Denson
Bert Hadley as Chip Bennett
Grace Woods as The Little Doctor
Frankie Darro as Chip Jr
Olin Francis as Dunk Whitaker
Barney Furey as Pink
Dudley Hendricks as Weary
Bill Patton as Happy Jack
Status: A print of this film is archived at Cinematheque in Brussels, Belgium.
Length: 4924 feet
Señor Miguel García is a Cattlemen's Association officer who is called to investigate a cattle theft at Chip Bennett's ranch. When he arrives at the ranch, he is dressed as a Spanish don, a disguise so he can track down the cattle thieves. While Miguel investigates the case, he becomes attracted to Sally, the lady of the ranch, and falls in love with her. Much to his chagrin, he discovers that Sally has another admirer, Dunk Whitaker, who owns a neighboring ranch. Miguel spends time with Sally at the ranch in between the investigation, even asks her to the local dance held at a popular dance hall. One the dance starts, Dunk also appears, and asks Sally to dance with him, even though she prefers Miguel as her dance partner. At one point Dunk and his henchmen conspire to get Miguel out of the way, so they knock him out, capture him, then tie him to a chair and hold him hostage. Miguel escapes, however, and goes after Dunk on horseback. Once Miguel finally tracks down the cattle thief, they get into a major fistfight in water, and Dunk ends up drowning. Miguel returns to Flying U Ranch, and weds Sally.
By the time "The Flying U Ranch" went into production, over three million people read Bower's novel published in 1914, which was one of the most popular western novels at the time. Readers of this book were interested in seeing the movie and how well it adheres to the original story. "The Flying U Ranch" is a sequel to Bower's novel "Chip of the Flying U", and is the first of two movies where Tom Tyler is dresed like a Spanish don; the second one is "Unconquered Bandit". Tom's black velvet costume, complete with red and gold trim, a colorful serape (Spanish shawl), and silver ornaments on his sombrero, look fantastic on him. One scene from this silent film depicts him playing the guitar and singing in true Spanish fashion, alongside a sax player and two backup singers beneath a tree. Filmed on location, the original "The Flying U Ranch" in the story is located in Montana. An interesting piece of trivia: most readers of Bower's novels during the early 1900's to 1920's did not know the author was a woman.
Taglines:
A thrill-packed, rapid-fire western adapted from the famous B. M. Bower novel. (The Marysville Advocate, Marysville, Kansas, November 17, 1927)
Never before have you seen such a thrill-packed show, with the greatest of western combinations - Tom Tyler and his pals! (Simpson County News, Mendenhall, Mississippi, January 26, 1928)
A courageous hero, a lovable boy and a wonderful horse, and a remarkable dog. You've never seen such a gang. (Palladium-Item, Richmond, IN, July 20, 1928)
Misjudged and misunderstood – despised as a meddling intruder – shunned by the girl he learned to love – but how he showed 'em! (Santa Cruz Evening News, Santa Cruz, CA, January 4, 1928)
Sources:
Exhibitor's Herald, July 23, 1927
Honolulu Star-Bulletin, Honolulu, HI, May 22, 1928
The Film Daily, November 6, 1927
Variety, November 2, 1927
Honolulu Star-Bulletin, Honolulu, HI, May 19, 1928
Exhibitor's Herald, July 23, 1927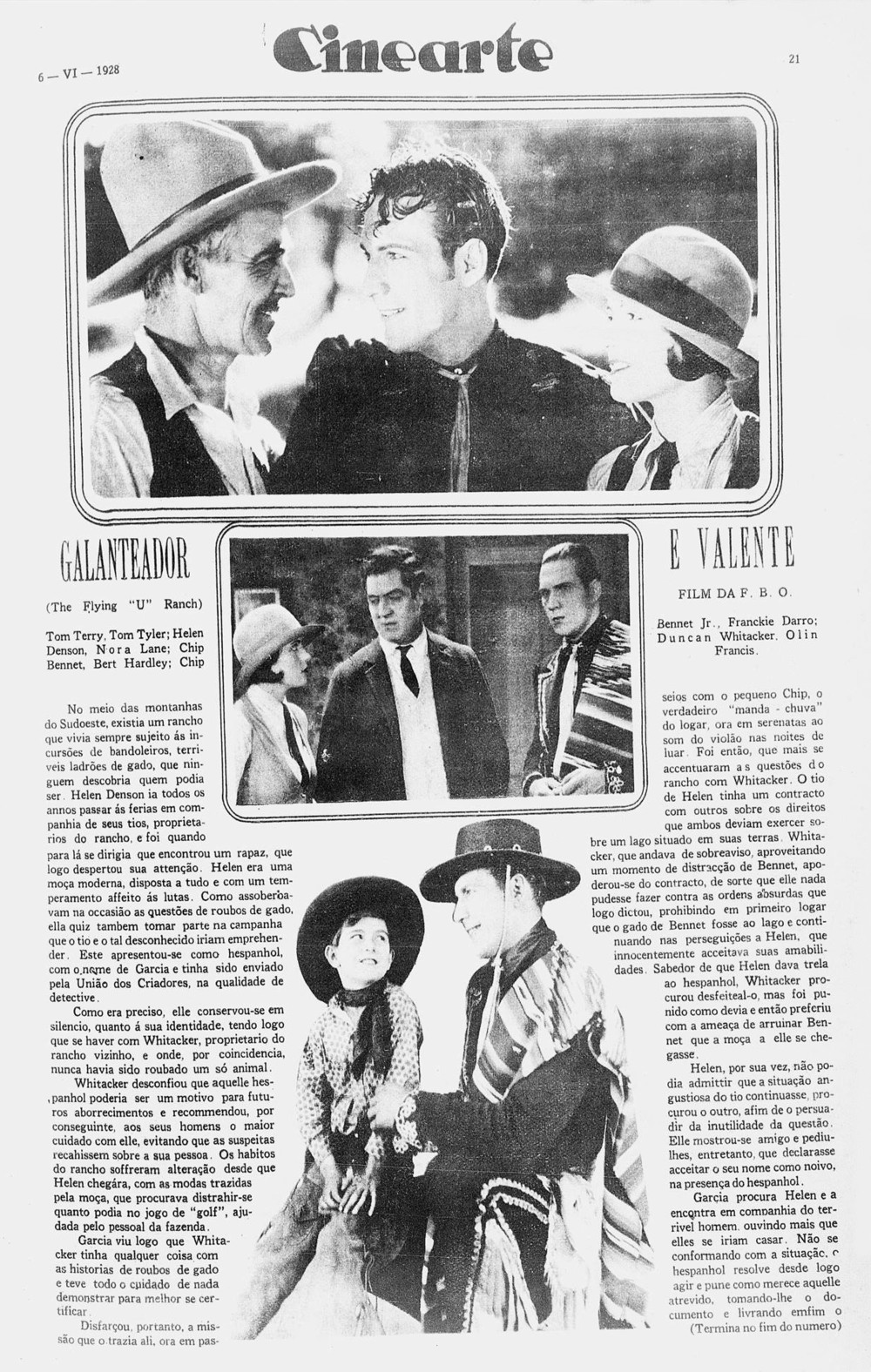 All composed text on this page is copyright Aventuras de Tom Tyler, 2018-2021.
No copyright infringement upon Tom Tyler's handsome face and gorgeous physique is intended. Neither is one intended upon his work. This website will always be ad-free and affiliate-free.

2015-2022 Aventuras de Tom Tyler