Splitting the Breeze (1927)
And I just didn't realize
what those eyes were really trying to do
- C. Scott & D. Dyer
Director: Robert De Lacey
Writer: Frank Howard Clark
Cast:
Tom Tyler as Death Valley Drake
Harry Woods as Dave Matlock
Barney Furey as Reverend Otis Briggs
Thomas G. Lingham as Tom Rand
Peggy Montgomery as Janet Rand
Buzz Barton as Red Lennox
Alfred Hewston as Hank Robbins
Barbara Starr as Lois Cortez
Status: Lost
Length: 4930 feet
Death Valley Drake is a prospector looking for a gold claim in Boulder Gulch which he inherited. Soon Drake meets the townspeople, one who happens to catch his eye, Janet Rand. Her father is the sheriff of Boulder Gulch. While Drake is in the process of locating his claim, he comes up against a criminal gang in town and has the misfortune of being present when one of the gang members shoots Sheriff Rand. Unfortunately for Drake, Sheriff Tom Rand thinks Drake is part of the gang. Matlock is the leader of the gang, but he and his men escape, leaving Drake to be arrested and put in jail for the shooting. Drake escapes from jail, however, and gets into a few scuffles with the gang members, eventually rescuing Janet from Matlock. Drake is cleared of all charges and ends up marrying Janet.
Filmed at Lone Pine tucked in the grandeur of Mount Whitney in California, Tom Tyler, the cast and entire filming crew spent three weeks in the high sierras for the filming of "Splitting the Breeze". All members got to travel on horseback and caravan throughout the rocky region, which must have been a treat just as much as filming this movie. This is the first movie Tom made for FBO minus Frankie Darro. As an interesting piece of trivia: "Splitting the Breeze" was shown to a group of budding screenwriters at Columbia University in New York and encouraged to compose a story for Tom's next FBO film.
Taglines:
All alone but he fought his battle against the cruelest outlaws the west ever knew. (The Times Recorder, Zanesville, OH, December 27, 1927 )
A hurricane of speed – a tornado of action – a cyclone of action – and the greatest western star of them all – Tom Tyler (The Daily Argus-Leader, Sioux Falls, SD, October 1, 1927 )
Sources:
Exhibitor's Herald, July 2, 1927
The Orlando Sentinel, Orlando, FL, July 8, 1927
St. Cloud Times, St. Cloud, Minnesota, March 31, 1928
Variety, September 7, 1927
Motion Picture News Booking Guide and Studio Directory, October 1927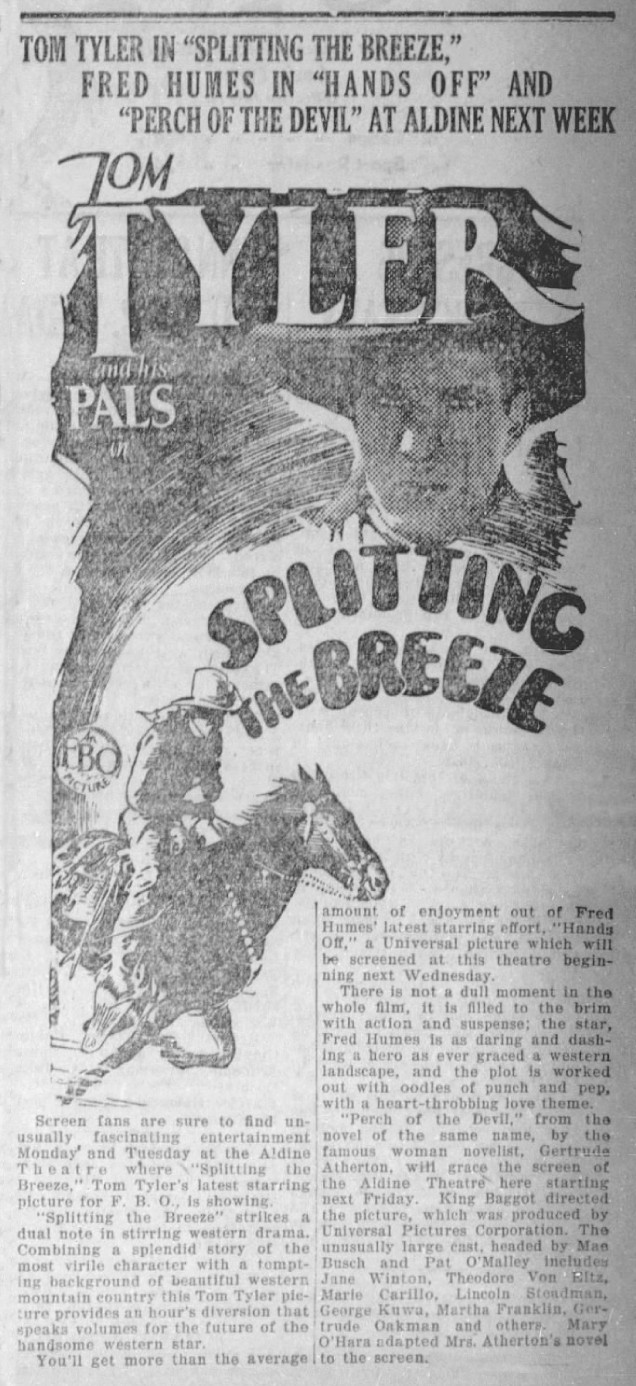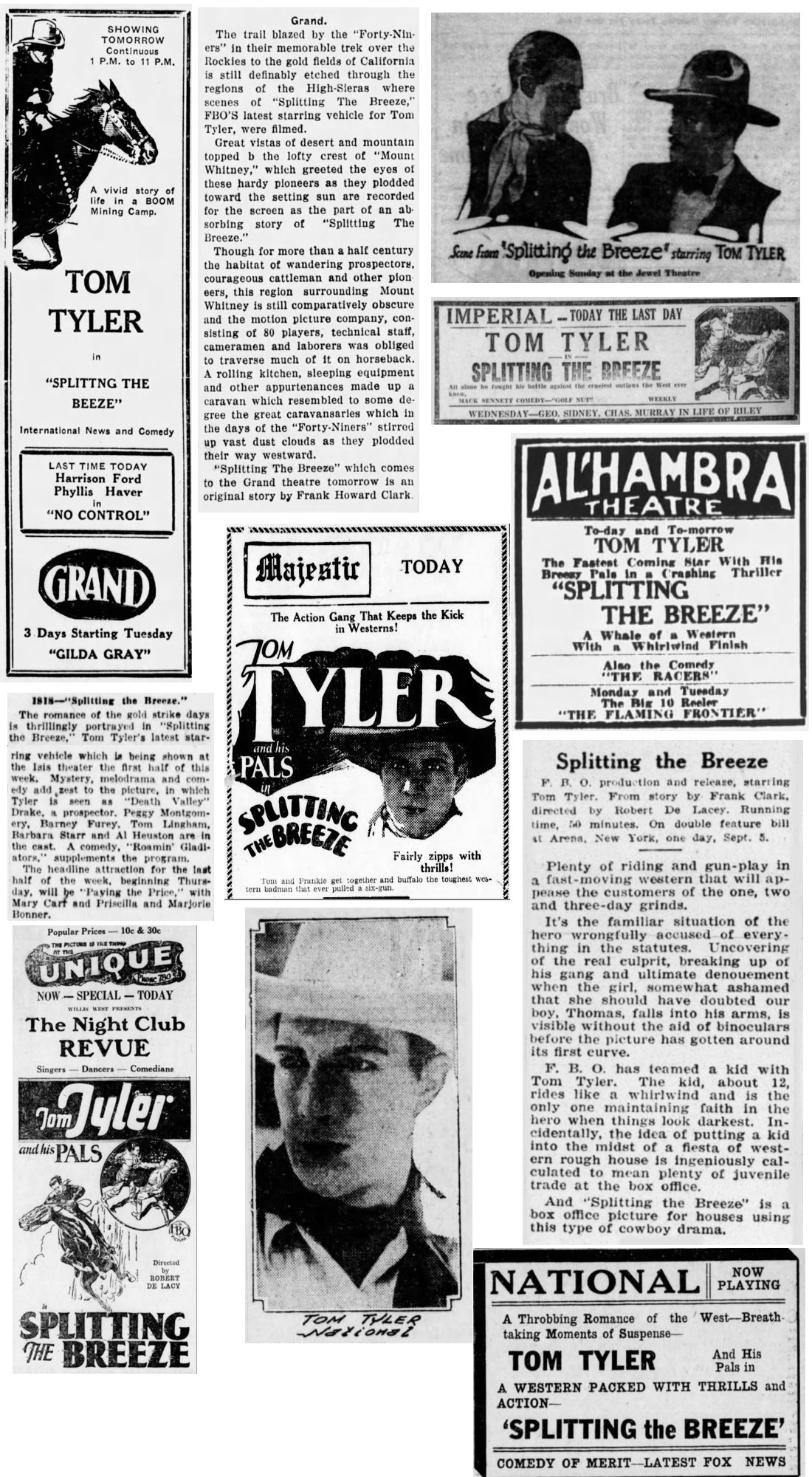 All composed text on this page is copyright Aventuras de Tom Tyler, 2018-2021.
No copyright infringement upon Tom Tyler's handsome face and gorgeous physique is intended. Neither is one intended upon his work. This website will always be ad-free and affiliate-free.

2015-2022 Aventuras de Tom Tyler