Lightning Lariats (1927)
A heart to heart is better than
face to face
- C. Scott & D. Dyer
Director: Robert De Lacey
Writers: F. A. E. Pine, George Worthing Yates
Cast:
Tom Tyler as Tom Potter
Dorothy Dunbar as Janet Holbrooke
Frankie Darro as Alexis, King of Roxenburg
Ruby Blaine as Cynthia Storne
Fred Holmes as Henry Storne
Ervin Renard as First Officer
Karl Silvera as Second Officer
Leroy Scott as Gus
Gertrude Astor as Girl
Status: A 35mm print of this silent film is at Gosfilmofond, Moscow, Russia.
Length: 4536 feet
Alexis is the young king of Roxenburg, who ends up dethroned in a political coup and must leave his kingdom forever – only to end up in America. Alexis is very young, having attained the throne at the tender age of 10 years old. His governess Janet is his legal guardian. Both Alexis and Janet meet Tom Potter, a ranchman who proves to be a valuable friend and protector. Tom is plagued by debt problems, and is on the verge of losing the property to its owner who happens to be a neighbor of his, Henry Storne. Things become complicated when Tom is chased by Cynthia, his landlord's daughter and when he fails to reciprocate her affections, she decides to make his life miserable. The jealousy arises due to Cynthia's seeing Tom with Janet, unsure of her origins, and when she finds out about her and Alexis, informs the two officers seeking Alexis to bring him back home to Roxenburg. Alexis is kidnapped but Tom rescues him – and Tom goes after the officers. Undeterred, the officers make one more attempt to kidnap Alexis as well as Janet, but are once again rescued by Tom. Storne finally changes his mind about demanding that Tom immediately pay off his debts and at the same time relieves his neighbor from the burden of his daughter. Tom happily ends up with Janet and adopt Alexis as their son.
Filmed in the Mojave Desert, "Lightning Lariats" combines elements of a fairy-tale-like kingdom with the American west, with Tom in the unusual position of having to protect a very young ruler. Gertrude Astor has a very minor role in this silent film from FBO.
Taglines:
Thrills- feats of daring and courage – the test of a man's mettle. (Shamokin News Dispatch, Shamonkin, PA, July 9, 1927)
A tale of a land where men must fight to live, must be sure on a horse, quick on the trigger. A tale of a man who is all of this – and more. (The Springfield Leader, Springfield, Missouri, November 5, 1927)
Sources:
Moving Picture World
, November 27, 1926
Santa Cruz Evening News
, Santa Cruz, CA, May 13, 1927
Shamokin News Dispatch
, Shamonkin, PA, July 9, 1927
The Springfield Leader, Springfield
, Missouri, November 5, 1927
A Guide to Silent Westerns
, Larry Langman (Greenwood Publishers, 1992)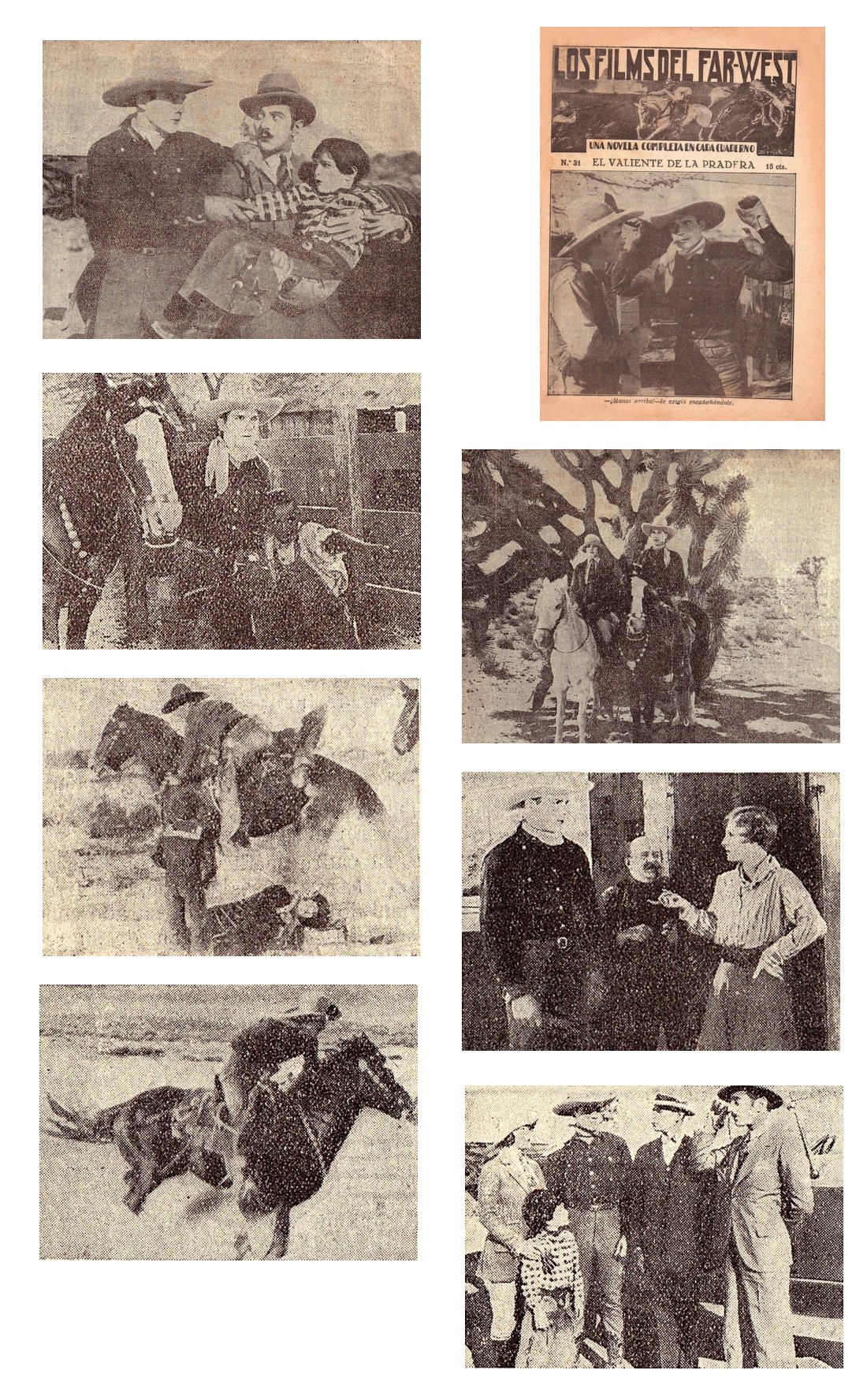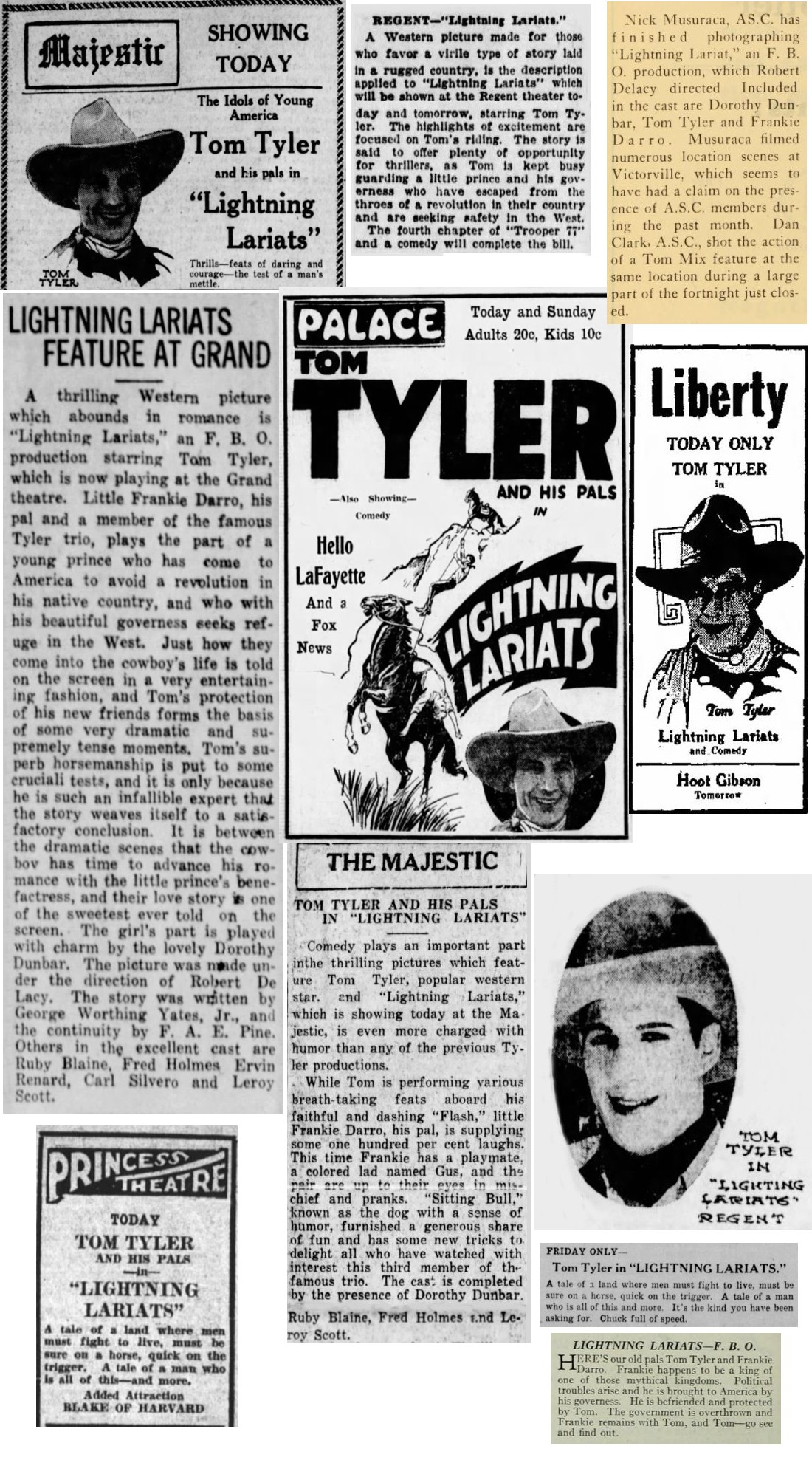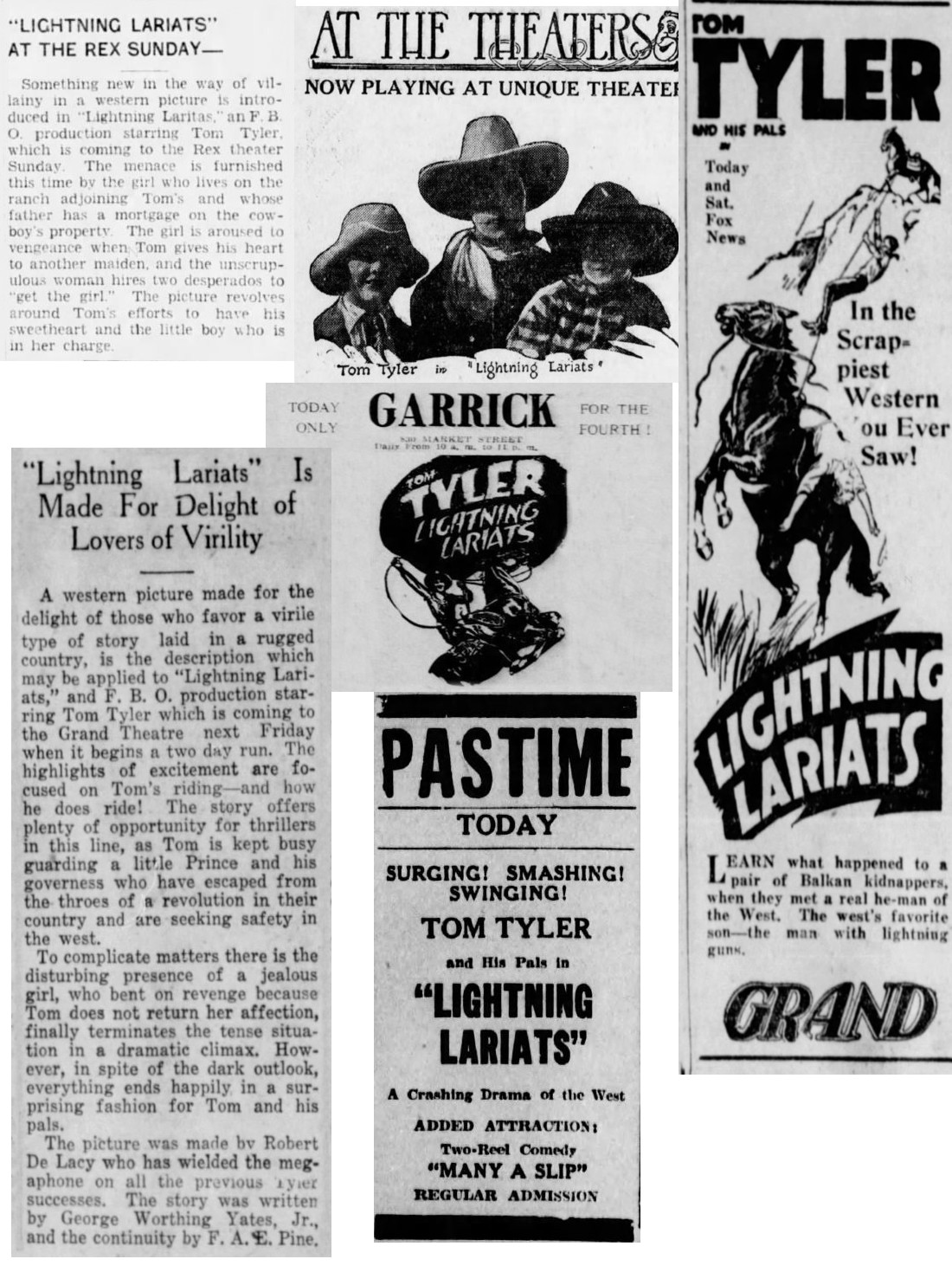 All composed text on this page is copyright Aventuras de Tom Tyler, 2018-2021.
No copyright infringement upon Tom Tyler's handsome face and gorgeous physique is intended. Neither is one intended upon his work. This website will always be ad-free and affiliate-free.

2015-2022 Aventuras de Tom Tyler