The Sonora Kid (1927)
Love is the star that you are
when you're loving me
- C. Scott & D. Dyer
Director: Robert De Lacey
Writers: J. G. Hawks, Percy Heath
Cast:
Tom Tyler as Tom MacReady
Peggy Montgomery as Phyllis Butterworth
Billie Bennett as Aunt Marie
Mark Hamilton as Chuck Saunders
Jack Richardson as Arthur Butterworth
Ethan Laidlaw as Tough Ryder
Bruce Gordon as James Poindexter
Barney Furey as Doc Knight
Victor Allen as Sheriff
Status: Lost
Length: 4565 feet
Tom MacReady is a cowboy in the employ of Arthur Butterworth, a ranch owner. Arthur's daughter Phyllis gave the Tom a copy of "King Arthur" to read when he was not working, and he finds the legend of the famous British leader to be rather enthralling. King Arthur becomes a hero who Tom admires. Beans the dog even takes an interest in King Arthur, patiently sitting next to Tom as Tom reads part of the story to him. It is not long before Tom takes a romantic interest in Phyllis, but her father has other plans for her: a millionaire bachelor from San Francisco who made his money through crooked means. Unfortunately for Phyllis, the ranch foreman also has eyes on her, which only increases the competition for Tom. A turn of events change for Tom when a medicine man by the name of Doc Knight moseys onto the ranch with his aide, a black man dressed in a suit of armor who provides some comic relief in the story. But Tom finds himself having to rescue Phyllis after she is kidnapped by the millionaire when he shows up on her father's order, and shuffled off to a deserted cabin on the ranch where he tries to solicit her affections. Discovering that the suit of armor has been discarded near the barn, Tom slips into it – and challenges the millionaire to a jousting match to win the hand of Phyllis. Arthur Butterworth finally relents and sends the crooked millionaire packing, and allows his daughter to marry Tom MacReady, who is her true knight in shining armor.
Definitely one of the more creative B-westerns put out by FBO, "The Sonora Kid" integrates elements of King Arthur story with that of the old west. The King Arthur element remains steadfast throughout the film, and holds a double reference: not only is the girl's father's name Arthur, having an obvious English last name, but Phyllis also hopes for the right man to come along – someone not afraid to wear a suit of armor and fight for her hand in marriage. Then a jousting match takes place, an event rather unusual for a B-western film. Tom has some great interactions with Beans, whether it is grooming him, or reading the legend of King Arthur to him. "The Sonora Kid" is the first of two FBO movies in which Frankie Darro does not appear in.
Taglines:
A western that blazes with the fiery spirit of the open range – with the avarice of a scheming crook – and the dauntless courage of a young ranger. Of a youth who fought to win – and how. (The Courier, Waterloo, Iowa, March 19, 1927)
Sources:
Variety, March 2, 1927
Reading Times, Reading, PA, August 9, 1927
Motion Picture News, March 1927
Shamokin News Dispatch, Shamokin, PA, September 10, 1927
The Times Recorder, Zanesville, OH, October 23, 1927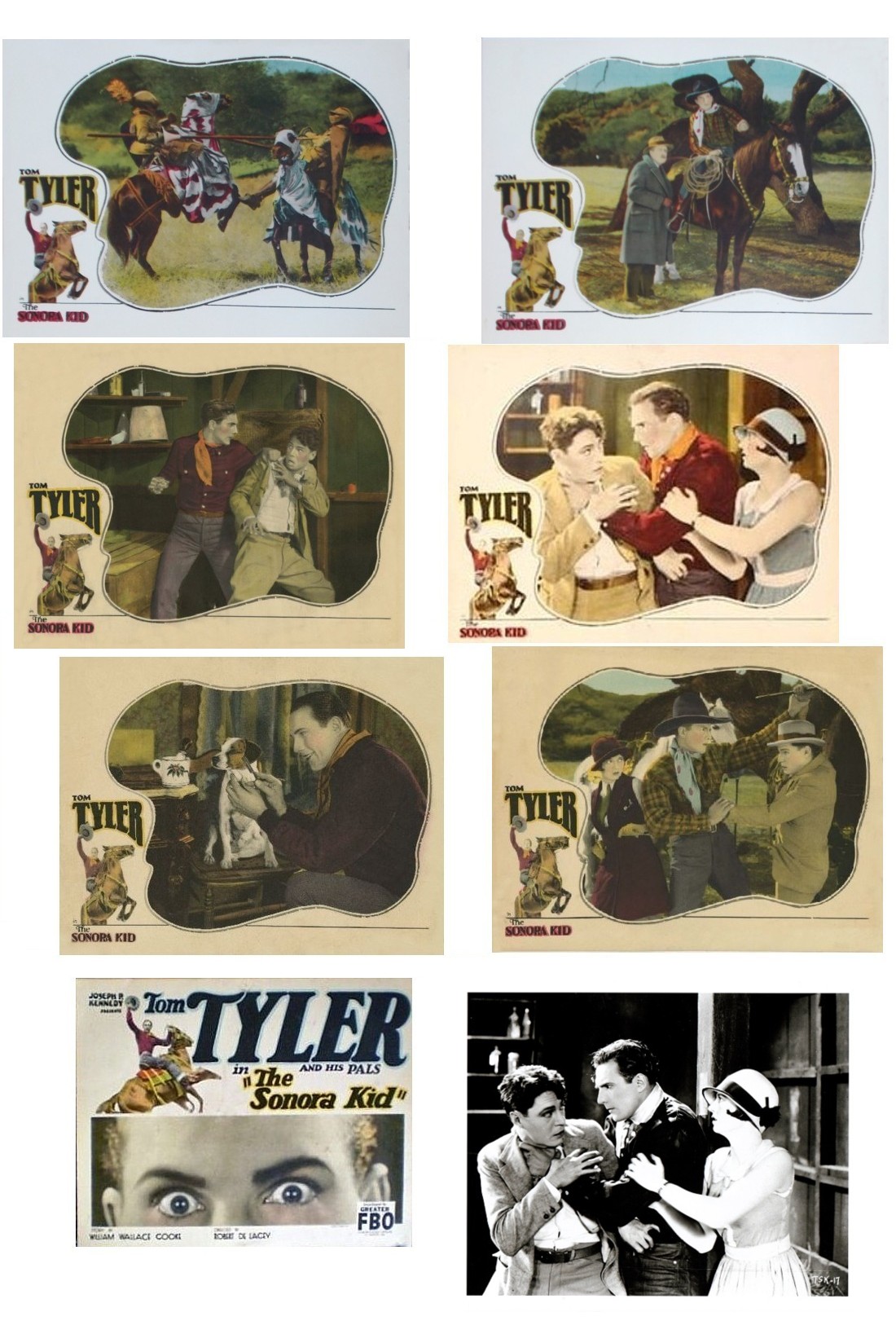 All composed text on this page is copyright Aventuras de Tom Tyler, 2018-2021.
No copyright infringement upon Tom Tyler's handsome face and gorgeous physique is intended. Neither is one intended upon his work. This website will always be ad-free and affiliate-free.

2015-2022 Aventuras de Tom Tyler