The Masquerade Bandit (1926)
Without your song
telephone wrong number
- C. Scott & D. Dyer
Director: Robert De Lacey
Writers: Ethel Hill, Enid Hibbard, William E. Wing
Cast:
Tom Tyler as Jeff Morton
Dorothy Dunbar as Molly Marble
Ethan Laidlaw as Duncan
Alfred Hewston as Pat (as Alfred Heuston)
Ray Childs as Spike
Raye Hampton as Kate Mahoney
Earl Haley as Tony
Frankie Darro as Tim Marble
Status: A 35mm print is archived at Cinematheque Royale de Belgique
Length: 4919 feet
Jeff Morton inherits a ranch from a cousin of his, not knowing it was used as the headquarters for a group of train robbers. His cousin, who was one of the bank robbers, was wounded during a recent train robbery, then caught by a detective. Jeff manages to track down and rescue his cousin from being questioned, but because of his injuries, died before revealing where the loot was buried. Duncan, the foreman of Jeff's newly inherited ranch has trouble believing the story about the train robbery and loot being hidden somewhere on the ranch property; so does one of the gang members, who also happens to be a cabaret owner. Molly, the daughter of the cabaret owner, teams up with Jeff, as does her younger brother Tim, to find the buried sack of loot. Jeff talks to the bandits in hopes of their guaranteeing to return the stolen money. Duncan attempts to manipulate Molly into dropping information about the stolen money from Jeff, but she refuses to do so because she loves Jeff.
Once Jeff and Molly find the bag of loot on the ranch though, the loot itself is missing, only an empty sack remaining in Jeff's hands. Duncan the foreman becomes the main suspect, and Jeff goes after him, forcing him to return the stolen loot. The two men engage in a major fistfight on a dangerous rocky cliff, and Duncan falls off the cliff, getting killed. Jeff returns to the ranch, and with the money safely in his hand, Jeff returns to his ranch home to Molly, and the couple end up marrying.
"The Masquerade Bandit" has its share of physical action from Tom Tyler, but what it also has is one of the first major fistfights which takes place upon a rocky cliff, a theme later seen in 1930's movies like "Phantom of the Range" (1936). There is plenty of hard, fast horseback riding too, and little Frankie Darro gets into his share of mischief, too. One cinema ad for "The Masquerade Bandit" markets Tom and his pals as "Tom Tyler and his Buoyant Pals", while a lobby card markets the gang as "Tom Tyler and his lovable pals".
Taglines:
A smashing, western melodrama, white with speed – an action show, with Tom Tyler and His Pals, whistling across your vision – young love – romance – comedy that makes your sides sore – a real plot – thrills – and what a quartette of favorites (The Dispatch, Moline, IL, December 25, 1926)
The King of Cowboys in a brand new walloping western melodrama, a-drip with chuckles, agog with excitement! (The Oneonta Star, Oneonta, NY, March 29, 1927)
Sources:
Exhibitor's Herald, June 26, 1926
The Film Daily, July 18, 1926
Motion Picture News, July 10, 1926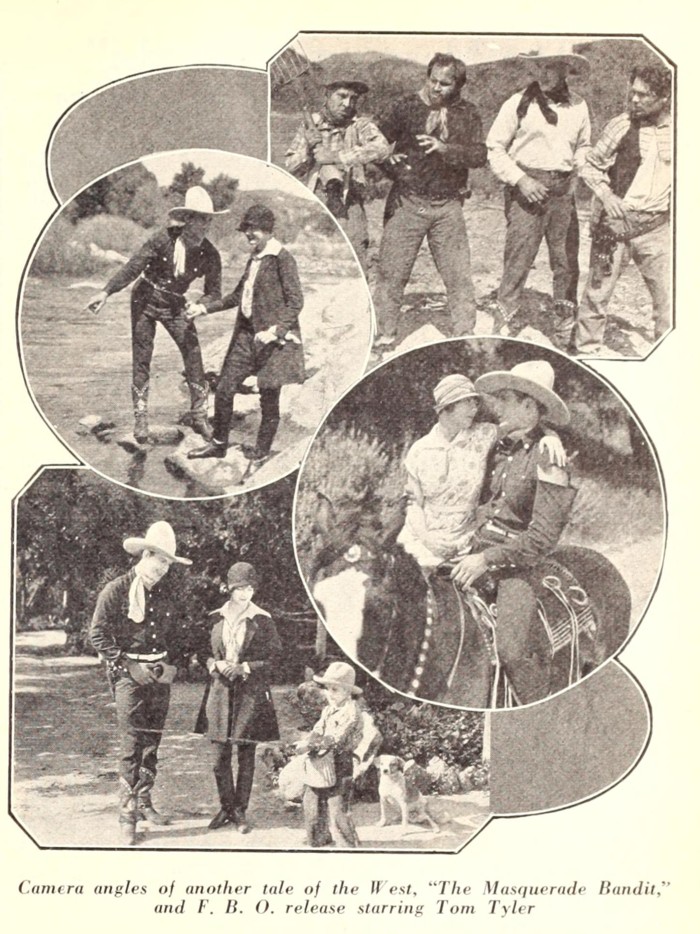 All composed text on this page is copyright Aventuras de Tom Tyler, 2018-2021.
No copyright infringement upon Tom Tyler's handsome face and gorgeous physique is intended. Neither is one intended upon his work. This website will always be ad-free and affiliate-free.

2015-2022 Aventuras de Tom Tyler