The Law of the Plains (1929)
But heaven knows that I like
the way you love me
- C. Scott & D. Dyer
Director: J. P. McGowan
Writers: Sally Winters
Cast:
Tom Tyler as O'Brien
Natalie Joyce as ----
Al Ferguson as Limpy (?)
J.P. McGowan as Seagrue
William L. Nolte as Henchman
Francis Walker as Cowhand
Cliff Lyons as Henchman
Status: A print of this silent film is at the Library of Congress, donated from AFI; four 35mm reels of the original five reels exist: reels 1, 2, 3, 5.
Length: 4800 feet
Dan O'Brien's father spends a number of years in South America as a member of the U.S. Devil Dogs (Marines) and when he returns to his ranch in California, ends up having to sell it. When Dan receives the news that his father is back in the States, he visits him, but by the time he arrives at the ranch, discovers that the ranch was on the market, ready for its new owner, but before the sale could be finalized, the senior O'Brien was murdered. Dan spends time conversing with a nearby rancher named Serrano, asking him if he knew who murdered his father. While Dan is trying to find out who shot his father, he becomes romantically close to a Spanish beauty (Natalie Joyce). Invoking the aid of the U.S. Devil Dogs (Marines), Dan's sleuthing pays off, learning that Serrano, whose real name is Seagrue, is the one who murdered his father. Dan is finally able to avenge his father's death, and with the Devil Dogs, tracks down Seagrue and his gang, turning them over to the sheriff.
According to Variety July 11, 1928, "The Law of the Plains" was supposed to be the last FBO film directed by Robert De Lacey, as well as being the last western directed by him for FBO. Somehow the script wound up in J. P. McGowan's directorial hands, possibly sold to him by FBO. Tom also performs some spectacular horseback riding in "The Law of the Plains", holding a gun in each hand and firing away at the criminals while in high-speed pursuit.
Taglines:
Tyler at his best. The greatest western star the screen has ever known. Be sure and see this fast riding, straight shooting he-man, in his greatest picture. (Standard-Sentinel, Hazleton, PA, August 30, 1929)
A fast action crammed Western drama of cool nerve and a steady hand. (Valley Morning Star, Harlingen, TX, May 1, 1930)
"The Law of the Plains" is an out and out western thriller. Beautiful photography, fast action and thrills galore. Tom Tyler's latest starring vehicle has been proclaimed a winner by those who have had the opportunity to see it. (The Escanaba Daily Press, Escanaba, MI, January 19, 1930)
A rooting tooting story of the west in which Tom defeats a band of outlaws with the assistance of the U.S. Devil Dogs. (The Baltimore Afro-American, Baltimore, MD, September 28, 1929)
Tom does some fancy riding with a gun in both hands. Here is action, pep, excitement, and thrills for everybody. (The Central New Jersey Home News, New Brunswick, NJ, January 7, 1930)
Sources:
Motion Picture News, March 15, 1930
The Sandusky Register, Sandusky, OH, June 22, 1930
Republican and Herald, Pottsville, PA, December 14, 1929
The News-Chronicle, Shippensburg, PA, November 1, 1929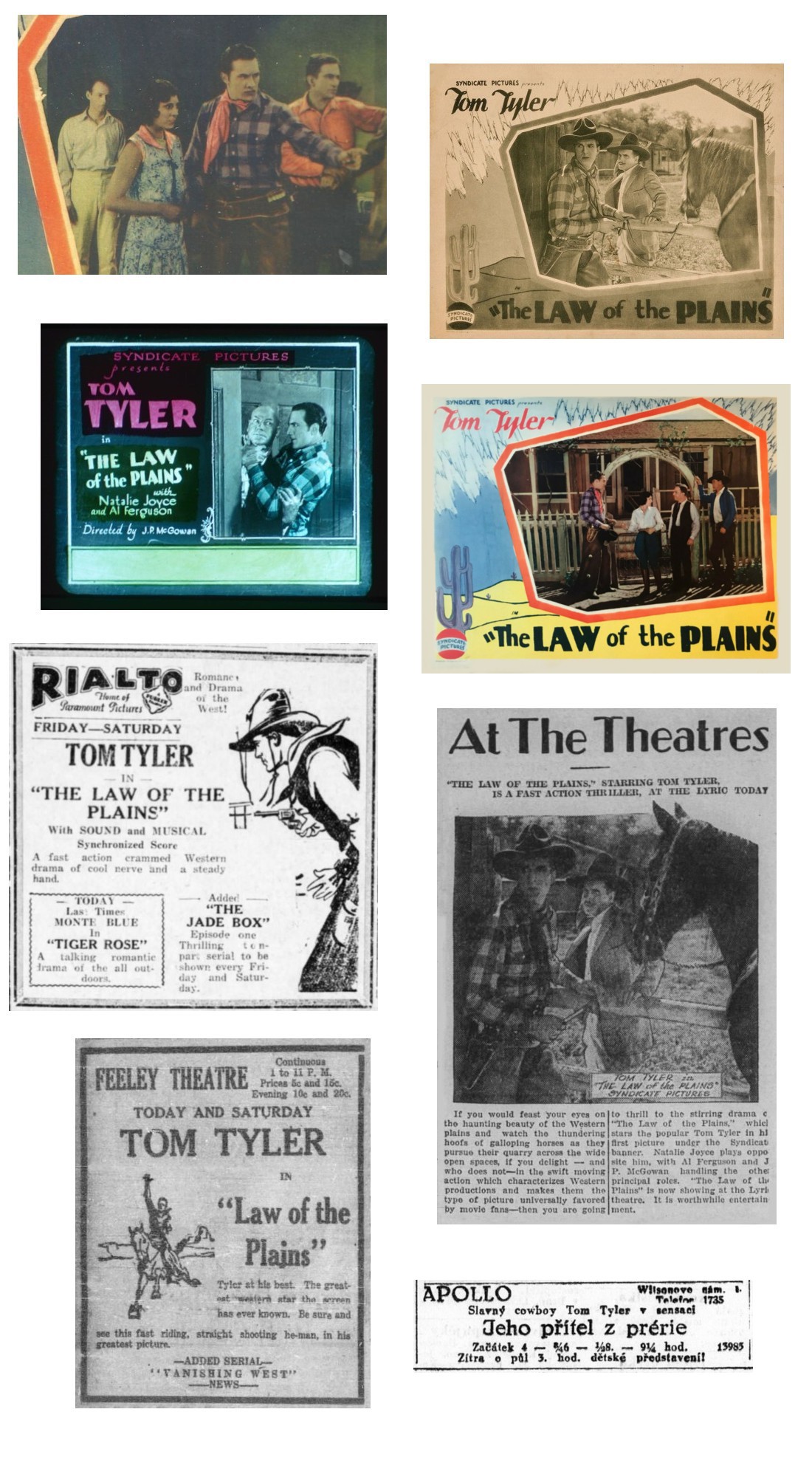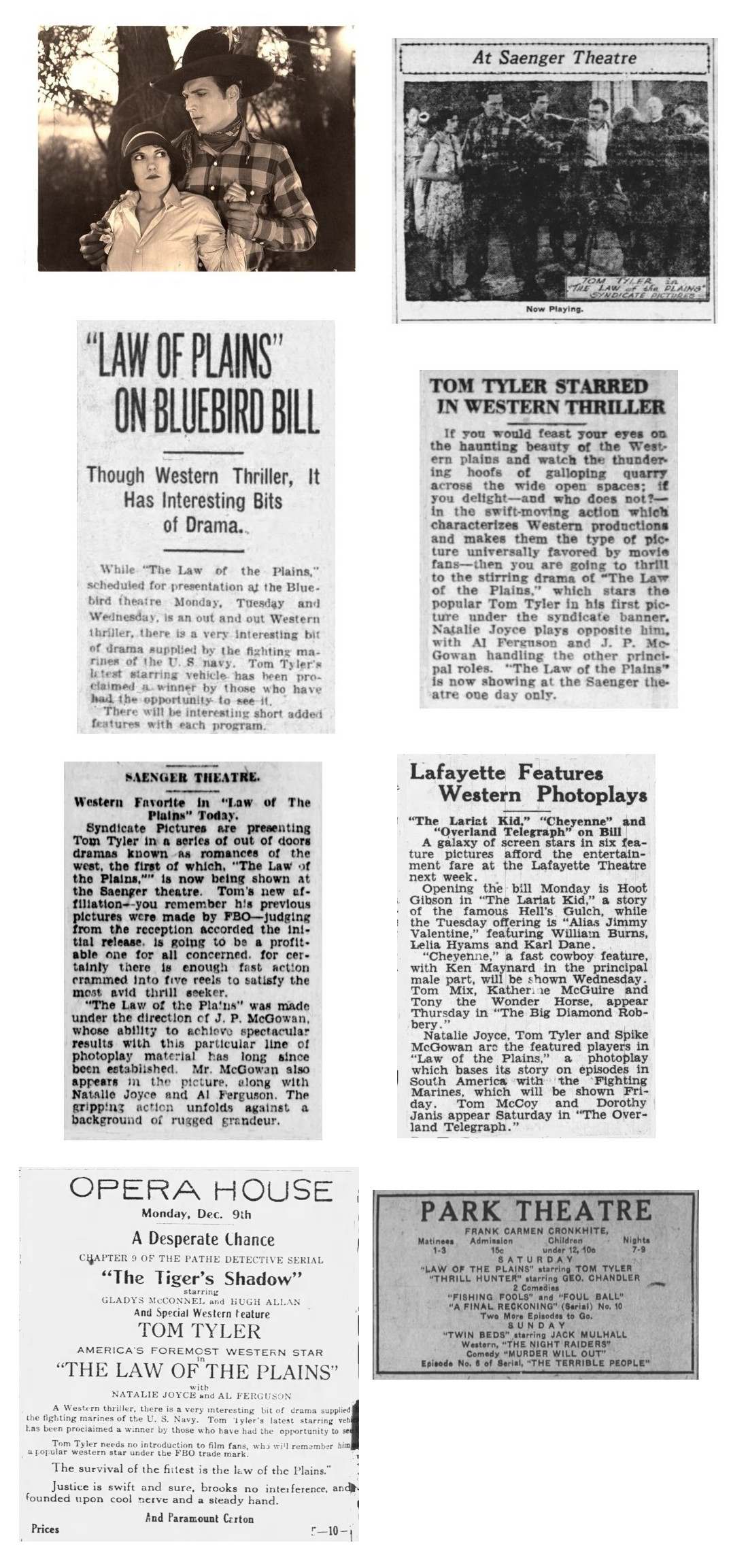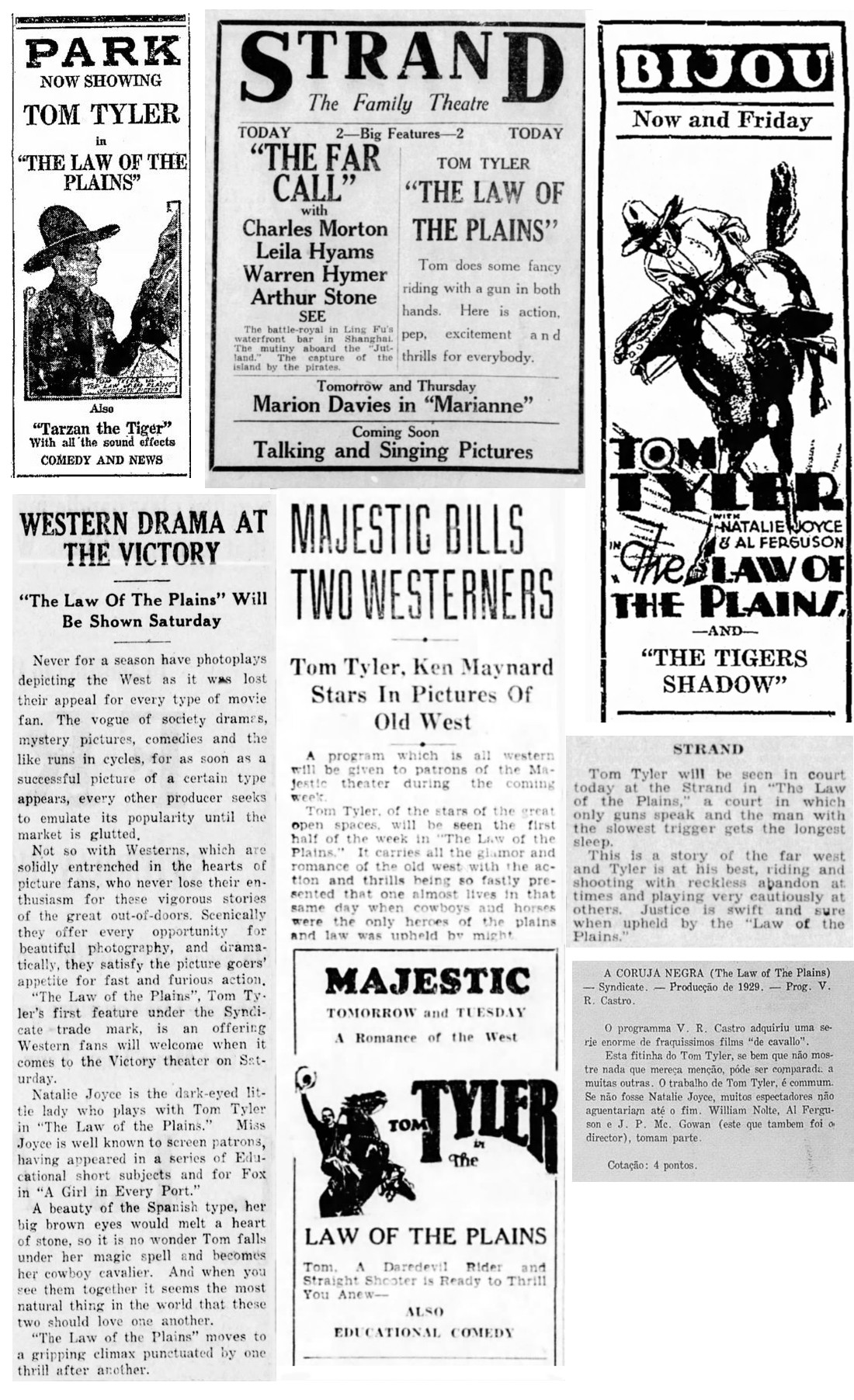 All composed text on this page is copyright Aventuras de Tom Tyler, 2018-2023.
No copyright infringement upon Tom Tyler's handsome face and gorgeous physique is intended. Neither is one intended upon his work. This website will always be ad-free and affiliate-free.

2015-2023 Aventuras de Tom Tyler