The Desert Pirate (1927)
No use bringing me down
'cause I just don't have to worry
- C. Scott & D. Dyer
Director: James Dugan
Writers: Frank Howard Clark, Oliver Drake
Cast:
Tom Tyler as Tom Corrigan
Frankie Darro as Jimmy Rand
Duane Thompson as Ann Farnham
Edward Hearn as Norton
Thomas G. Lingham as Shorty Gibbs
Vester Pegg as John Rand (?)
Status: Lost
Length: 4754 feet
Tom Corrigan is a sheriff in the town of Timboroo in the Nevada desert who is on the verge of tracking down a gang of criminals whose leader is John Rand – also known as The Desert Pirate. Rand and his men have just completed a major cattle and horse rustling, shuffling off their new booty across the Great Basin Divide, away from the sight of Corrigan. Rand's gang has shrunk since Corrigan caught and put an end to six of his men, but one man, Shorty Gibbs, left the gang on his own volition, only to try and rejoin. The night that Gibbs decides to rejoin, he finds out where Rand and a few of his men are hiding, by Rock of the Snakes. Rand and Gibbs end up fighting, and at the center of the fight is Rand's young son Jimmy. Rand has come to believe that his son, who he loves very much, is unaware of his father's activities, until Gibbs tells Rand that the boy is indeed aware, and without a real father figure in his life. For Rand, having to worry about his son knowing that he is an outlaw, is just as bad as worrying about Corrigan tracking him down and shooting him. Rand sends Gibbs off on his way, before making the decision to visit his son and find out if Jimmy really knows the truth about him.
In a major ambush, Corrigan shoots The Desert Pirate, takes Jimmy Rand under his wing, turns in his sheriff badge, and move away to a remote area where the two pals meet Ann Farnham, whose father is ranch owner and a gambler. The Farnhams are in danger of losing their ranch to Norton, a bandit who got into a crooked deal with Ann's father. Tom becomes romantically involved with Ann and helps her save the property from Norton. With the Farnham ranch free, Tom and Ann marry and live happily on the ranch.
"The Desert Pirate" is a silent film is a human interest story that is comparable to Tom's later silent films made for Syndicate under J. P. McGowan. "The Desert Pirate" marks the onscreen reunion of Tom Tyler with Frankie Darro after Tom's fans wrote in to FBO complaining about their separation during "The Cherokee Kid". Additional plot information was translated and condensed from El Pirata del Desierto, issue number 13 of Los Films del Far-West.
Taglines:
See – a new type of western – a red blooded son of the plains taking 'em as they come with bare fist against roaring guns! (The Owensboro Messenger, Owensboro, KY, May 26, 1928)
A blazing thriller of the mounted west (Chillicothe Gazette, Chillicothe, OH, February 11, 1928)
Jammed with action -overflowing with comedy-bursting with romance and bubbling with thrills-the kind that everyone enjoys. (Palladium-Item, Richmond, IN, March 9, 1928)
Sources:
El Pirata del Desierto, #13 "Los Films del Far-West", (Las Grandes Obras Modernas, Barcelona, Spain. 14 pages)
The Owensboro Messenger, Owensboro, KY, May 26, 1928
The Honolulu Advertiser, Honolulu, HI, June 11, 1928
Reading Times, PA, June 4,
Exhibitor's Herald, December 24, 1927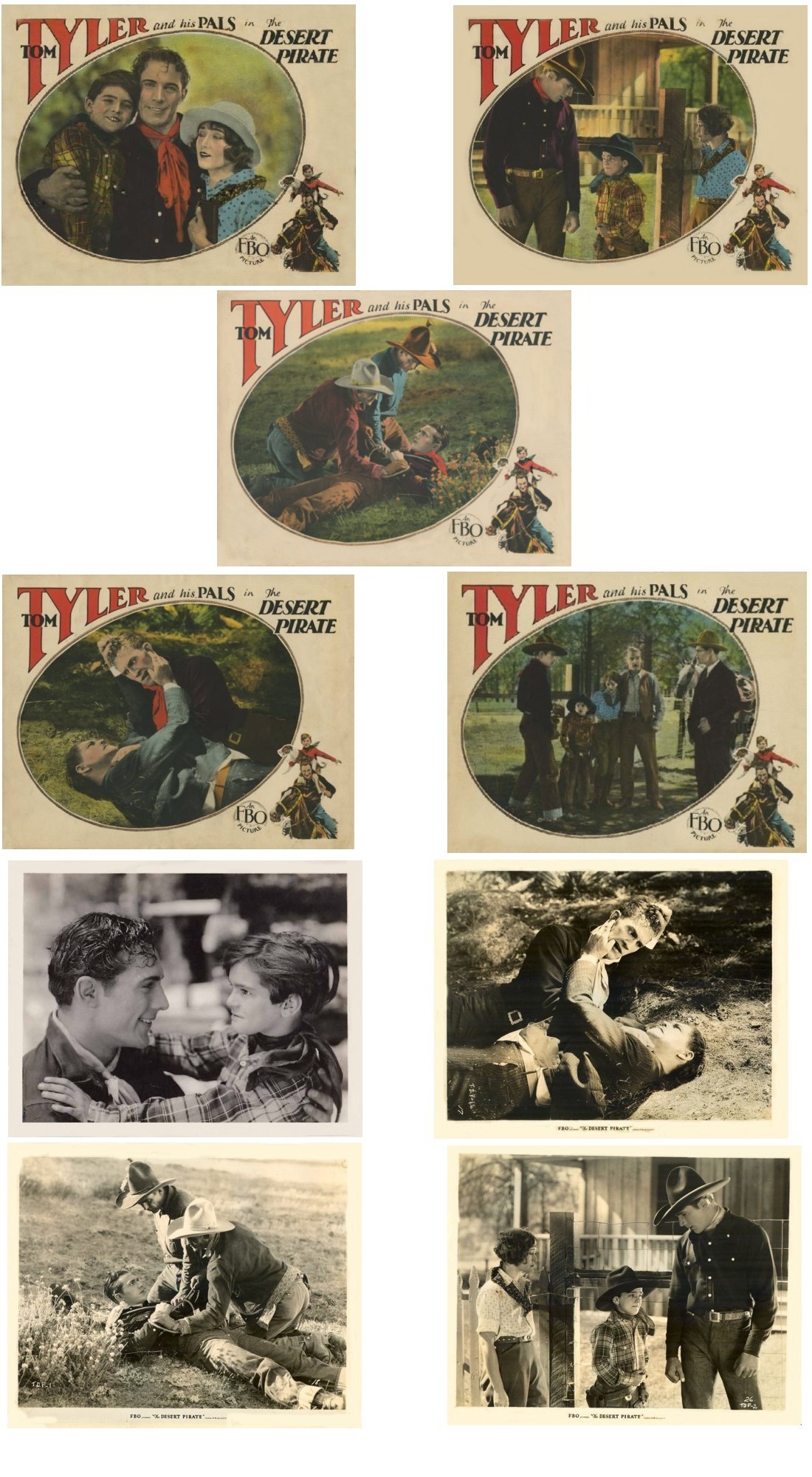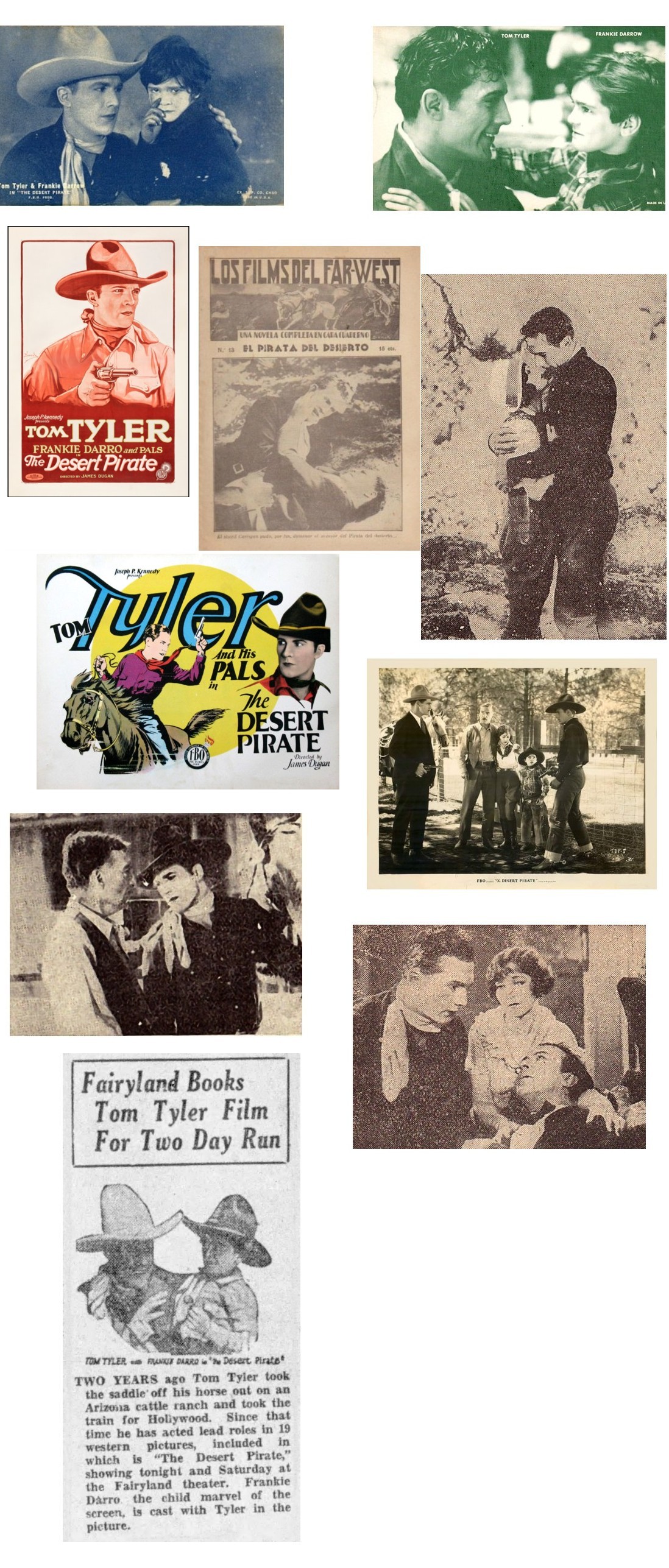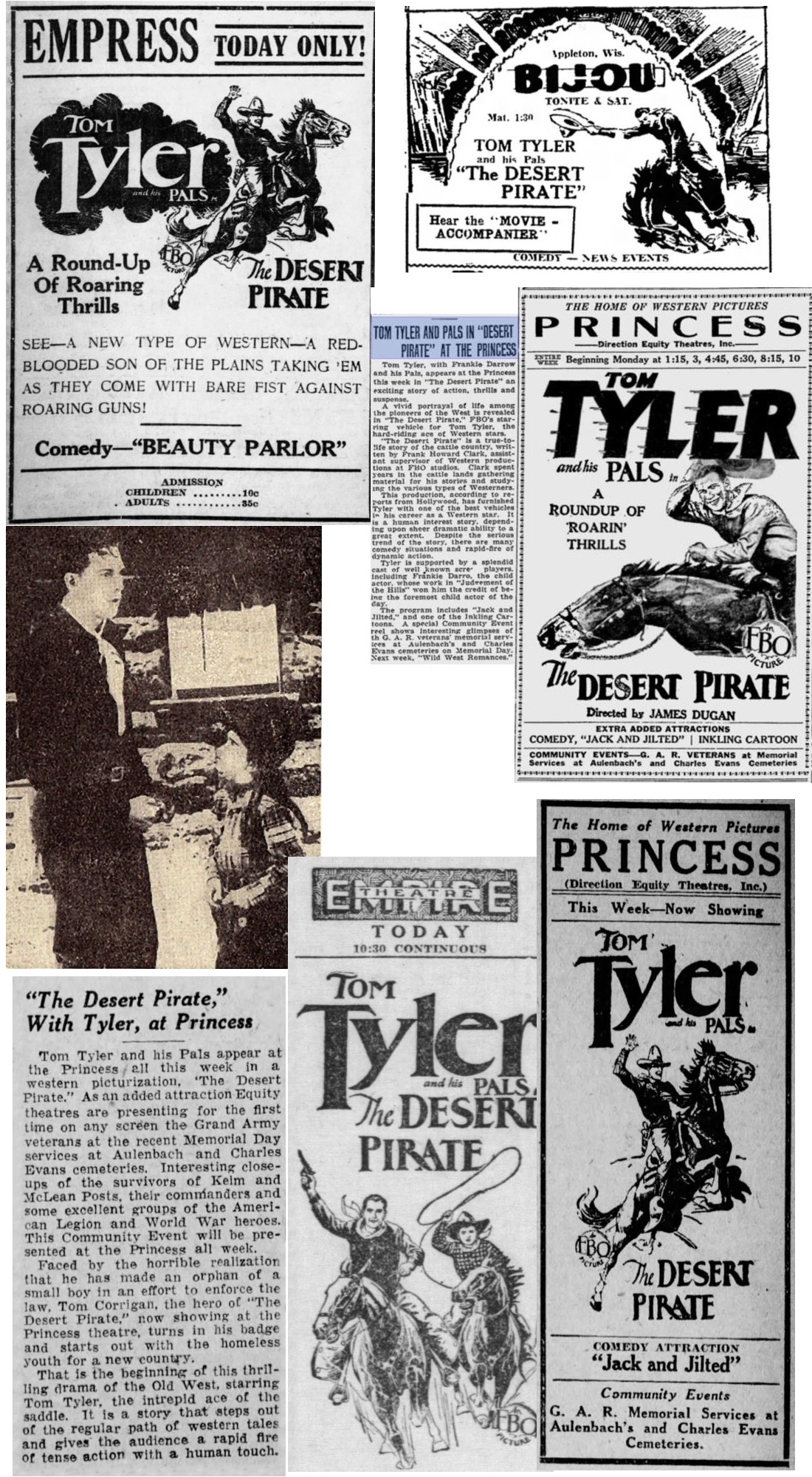 All composed text on this page is copyright Aventuras de Tom Tyler, 2018-2023.
No copyright infringement upon Tom Tyler's handsome face and gorgeous physique is intended. Neither is one intended upon his work. This website will always be ad-free and affiliate-free.

2015-2023 Aventuras de Tom Tyler