The Cowboy Cop (1926)
We're just playing
straying off the track
- C. Scott & D. Dyer
Director: Robert De Lacey
Writers: Frank Richardson Pierce, F.A.E. Pine
Cast:
Tom Tyler as Jerry McGill
Jean Arthur as Virginia Selby
Ervin Renard as Count Mirski
Frankie Darro as Frankie
Pat Harmon as Dago Jack
Earl Haley as Crook #2
Status: A 16mm negative print is at EYE Filmmuseum, Amsterdam, Netherlands
Length: 4385 feet
Jerry McGill arrives in the big city of Los Angeles from a ranch in Arizona but meets up with a robber by the name of Dago Jack who pretends to get him a room at a hotel but ends up robbing him instead. Dejected, Jerry walks around the city until he sees a hungry newsboy named Frankie who doesn't have enough money to eat, and as a gesture of kindness, Jerry parts with his last few cents from his pocket and gives it to the boy to purchase a meal. Frankie is forever grateful and in turn, the two become fast friends.
Jerry manages to get a job with the Los Angeles mounted police, and with his horseback riding skills, gets hired in no time. The only problem is, he sees little action on horseback due to being appointed to a rather wealthy district, where there is practically no crime. Before he knows it, Jerry is introduced to a wealthy heiress, Virginia Selby in a rather unusual manner: she is on a runaway horse in which he must go after her and rescue her. Soon Jerry and Virginia start spending time and getting to know each other. Virginia's privileged background is hardly a barrier to her interest in him, in fact, she starts inviting him over to her house to meet her father and have dinner.
A visiting count from an eastern European country by the name of Mirski is a guest at a social event at Virginia's house when he decides to send two hitmen to break into the safe and steal the valuable jewels. Even though Jerry is dressed in his finest dinner suit, he still engages in a fight with the crooks, chasing them first by car, then by motorcycle, finally capturing them. After Jerry finds he has been in the city long enough, he decides to return home to his ranch in Arizona. To his surprise, Jerry is persuaded by Virginia to stay with her on the family ranch in California and marry her.
Tom's onscreen pal Frankie is included in practically every scene, the latter dancing the Charleston, much to the delight of the viewers. He also accompanies Tom in all the fights, and is equally amazed at having gone from being a lowly newspaper boy to high society literally overnight. It may be that getting to see how the other half lived which prompted Tom and Frankie to eventually compromise and stay with Virginia on her California ranch. "The Cowboy Cop" is definitely one of the more creative scripts given to Tom by FBO and he pulls off the entire role very well.
Taglines:
An absolutely new kind of western! From the sagebrush ranges of Arizona to a big city! A thrill every second! (Casper Star-Tribune, Casper, WY, November 24, 1926)
Tearing through the black night in pursuit of desperate crooks, the shot sceaming through space, his tires torn to ribbons, jumping on a motorcycle whizzing past, leaping from it to the crooks' car, the life or death battle, and the final victory which leads him to the girl he loves and fought for. (Manitowoc Herald-Times, Manitowoc, Wisconsin, February 18, 1927)
A glowing tale of adventure in the west, with adventure crowded days on the plains, and romance to the tune of swift hoof beats. Thrills and action a-plenty. (The Circleville Herald, Circleville, OH, June 25, 1927)
Sources:
Moving Picture World, August 7, 1926
Motion Picture News, August 28, 1926
The Tennessean, Nashville, TN, October 3, 1926
Exhibitor's Herald, August 7, 1926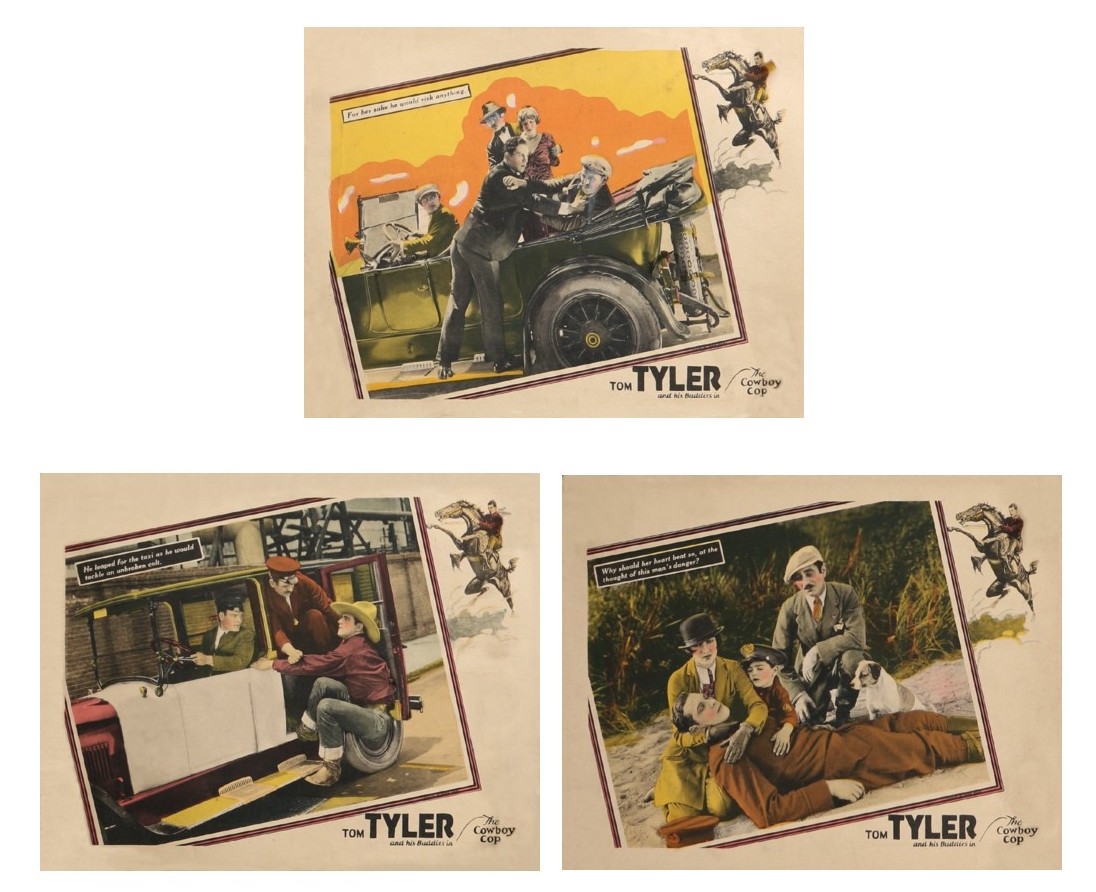 All composed text on this page is copyright Aventuras de Tom Tyler, 2018-2021.
No copyright infringement upon Tom Tyler's handsome face and gorgeous physique is intended. Neither is one intended upon his work. This website will always be ad-free and affiliate-free.

2015-2022 Aventuras de Tom Tyler