The Avenging Rider (1928)
The song that's often sad
reminds me how it was before
- C. Scott & D. Dyer
Director: Wallace Fox
Writers: Adele Buffington, Frank Howard Clark, Randolph Bartlett
Cast:
Tom Tyler as Tom Larkin
Florence Allen as Sally Sheridan
Frankie Darro as Frankie Sheridan
Al Ferguson as Bob Gordon
Bob Fleming as Sheriff
Arthur Thalasso as Dance professor
Status: A 35mm one-reel fragment of this silent film is at Gosfilmofond, Moscow, Russia.
Length: 4808 feet
Tom Larkin inherits half the ranch he is foreman of when his boss is murdered. The other half of the property is inherited by Sally Sheridan, the niece of the dead rancher. Having just arrived from the city, Sally has ideas on how to run the ranch which are conducive to her cosmopolitan background, while Tom wants to keep the ranch as it is. The couple eventually consent on her taking the house and front yard, with Tom running the barn and the rest of the property.
Bob Gordon, a nearby rancher who has his eye on the Sheridan ranch, poses as Sally's suitor, wanting her hand in marriage as a way of gaining control of the ranch but has to compete with Tom, often getting into fistfights with him. To that end, Gordon even blames Tom for the murder of Sally's uncle, framing him in a setup. Sally transforms the ranch house into a girls' school, turning the barn into a gym where the girls could exercise, and make a mountain lake their swimming hole. Tom of course is enchanted by so much female company even though he loses control of the barn in the process, quietly consenting to Sally's wishes. The schoolgirls on the ranch get dressed up for dances and parties held on the property. Eventually though Tom is paid a visit by the sheriff and believing that Gordon witnessed Tom murdering Sally's uncle, is arrested and placed in jail. Tom escapes jail, and proving himself innocent, finally reveals Gordon to be the one who murdered Sally's uncle – who is then arrested by the sheriff and taken away to jail, while Tom wins Sally's hand in marriage.
"The Avenging Rider" is based on Adele Buffington's story "Dancing Hoofs". This is the first Tom Tyler FBO silent film directed by Wallace Fox.
Taglines:
An up-and-at-'em thriller of the old west with the ace of action combinations! (Battle Creek Enquirer, Battle Creek, Michigan, November 3, 1928)
Don't miss this thrill-packed, laugh-jammed thrillo-drama of the cattle range. (The Free-Lance Star, Fredericksburg, VA, April 20, 1929)
Breath-taking thrills in a two-fisted romance of the west. (Asheville Citizen-Times, Asheville, NC, May 25, 1929)
Flashing hoofs, roaring guns, crashing fists in a drama of frontier vengeance – don't miss it! (The Press-Tribune, Roseville, CA, January 18, 1929)
Sources:
Exhibitors Herald World, March 16, 1929
La Grande Observer, La Grande, OR, July 27, 1929
The Star Press, Muncie, IN, September 15, 1929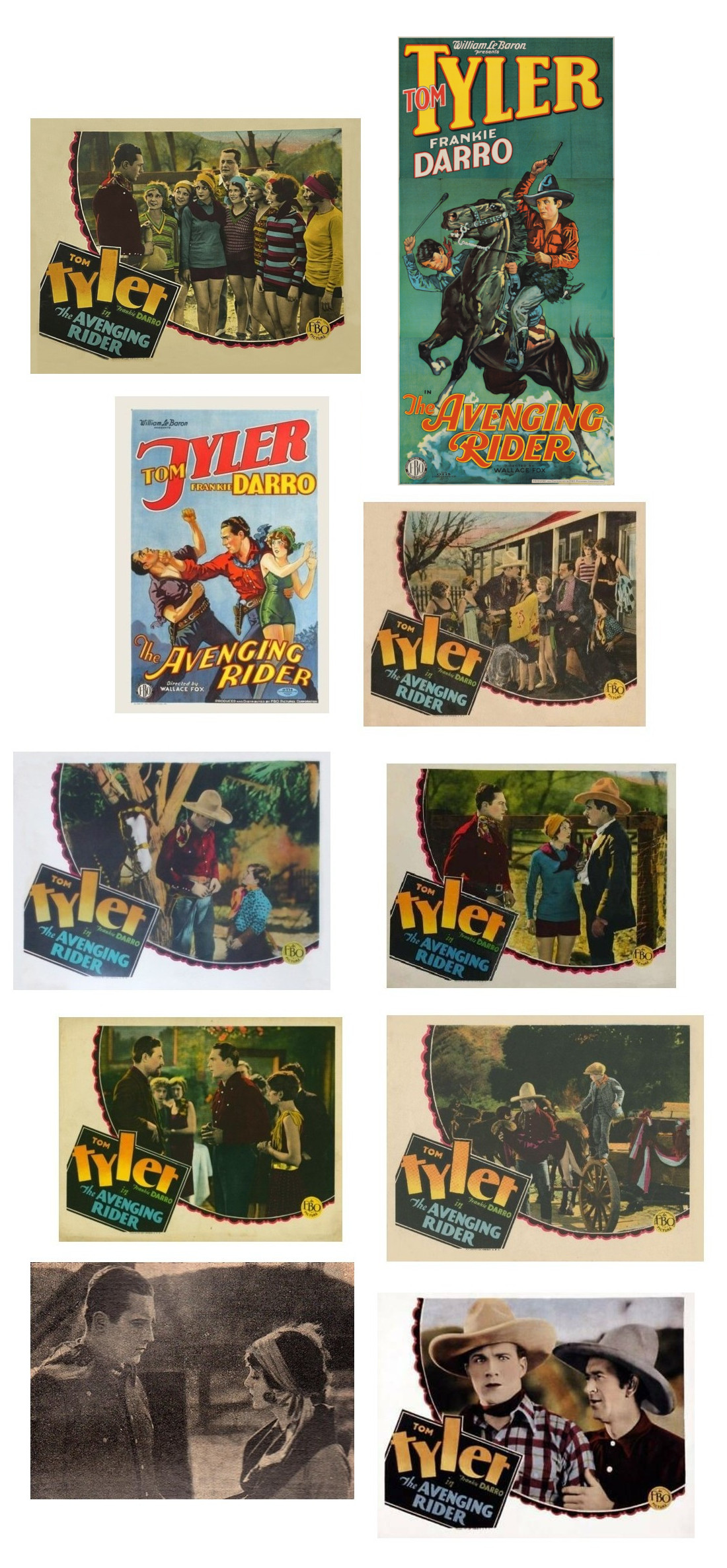 All composed text on this page is copyright Aventuras de Tom Tyler, 2018-2021.
No copyright infringement upon Tom Tyler's handsome face and gorgeous physique is intended. Neither is one intended upon his work. This website will always be ad-free and affiliate-free.

2015-2022 Aventuras de Tom Tyler