Terror Mountain (1928)
Small reward is all that's offered
as you surely learned
- C. Scott & D. Dyer
Director: Louis King
Writers: Frank Howard Clark, Wyndham Gittens
Cast:
Tom Tyler as Tom Tyler
Jane Reid as Lucille Roberts
Al Ferguson as Luke Thorne
Jules Cowles as Jed Burke
Frankie Darro as Buddy Roberts
Status: A 35mm print is at Cinematek in Brussels, Belgium.
Length: 4884 feet
Upon receiving a letter requesting help from a young admirer named Buddy Roberts, Tom Tyler decides to visit his new friend while on vacation from movie making. Familiar with Tom's onscreen heroics, Buddy believes that he can help his family remain safe in their snowy mountain cabin home after being threatened by two gangsters, Luke Thorne and Jed Burke. While on his way to the Roberts cabin in the mountains, Tom's car gets stuck in the snow, and he has to climb up to their home using skis. He is new at using skis, so at one point later on in the story Lucille and Buddy show him how to use them, with plenty of humorous results.
Thorne and Burke want the Roberts family off the property so they can root out a hidden wallet full of cash, hidden by their father's business partner. Lucille and Buddy want to keep Thorne at bay not only for that reason, but also because he shot their father. Even though the bandits are concentrating on seeking a wallet, what they do not know is that the money was actually taken from a wallet and hidden in a jar in the cabin by Lucille's father. Tom gets into a handful of fistfights with Thorne and Burke, finally driving them away, when the trio finally locate the missing money. With Tom's vacation time running out – time that he spent helping his young fan Buddy – he departs the snowy cabin – leaving fond memories with Lucille and his young pal.
Filmed at the Big Bear mountains near Los Angeles, one interesting fact about the locale in "Terror Mountain" is that the cabin in the movie once served as a hideout for a 19th century robber, Jimmy "Squint" Dugan, no relation to Tom's FBO sometime director James Dugan. Louis King steps in as director in "Terror Mountain" and while it was standard for many silent film comedians to star as themselves in a silent film short or feature length film, it was rare for a leading man to star as himself, even in a B-western. Tom Tyler holds this rare distinction for an actor of the mid- to late 1920's. The screenplay is based on the Wyndham Gittens story, "The Western Star".
Taglines:
Horseman of the snow to the peaks of action and then down in an avalanche of laughs and thrills. (Cape Girardeau Southeast Missourian, Cape Giardeau, Missouri, October 13, 1928)
In this picture, Tyler has left the stereotype western surroundings for the more colorful regions in the snow-clad northwest. It has one of the most beautiful scenic backgrounds seen in a picture of this type for many a day. (The Salem News, Salem, OH, January 15, 1929)
Intrigue-mystery and the perils of the snow trails matched by the daring of a stalwart plainsman. (Muncie Evening Press, Muncie, IN, September 8, 1928)
Hitting the peak of thrills – here's something different in thrillers of the west – a baffling mystery drama that mixes laughs with action. (Statesman Journal, Salem, OR, December 21, 1928)
Mystery – see how a girl trapped on a ranch of horrors appeals to the only man she trusts – her movie hero. See what happems when a celluloid cowboy tests himself against real villains. (The Daily Argus-Leader, Sioux Falls, SD, June 29, 1929)
Sources:
Exhibitors Herald World, March 16, 1929
Republican and Herald, Pottsville, PA, December 22, 1928
Variety, October 17, 1928
Harrison's Reports, May 19, 1928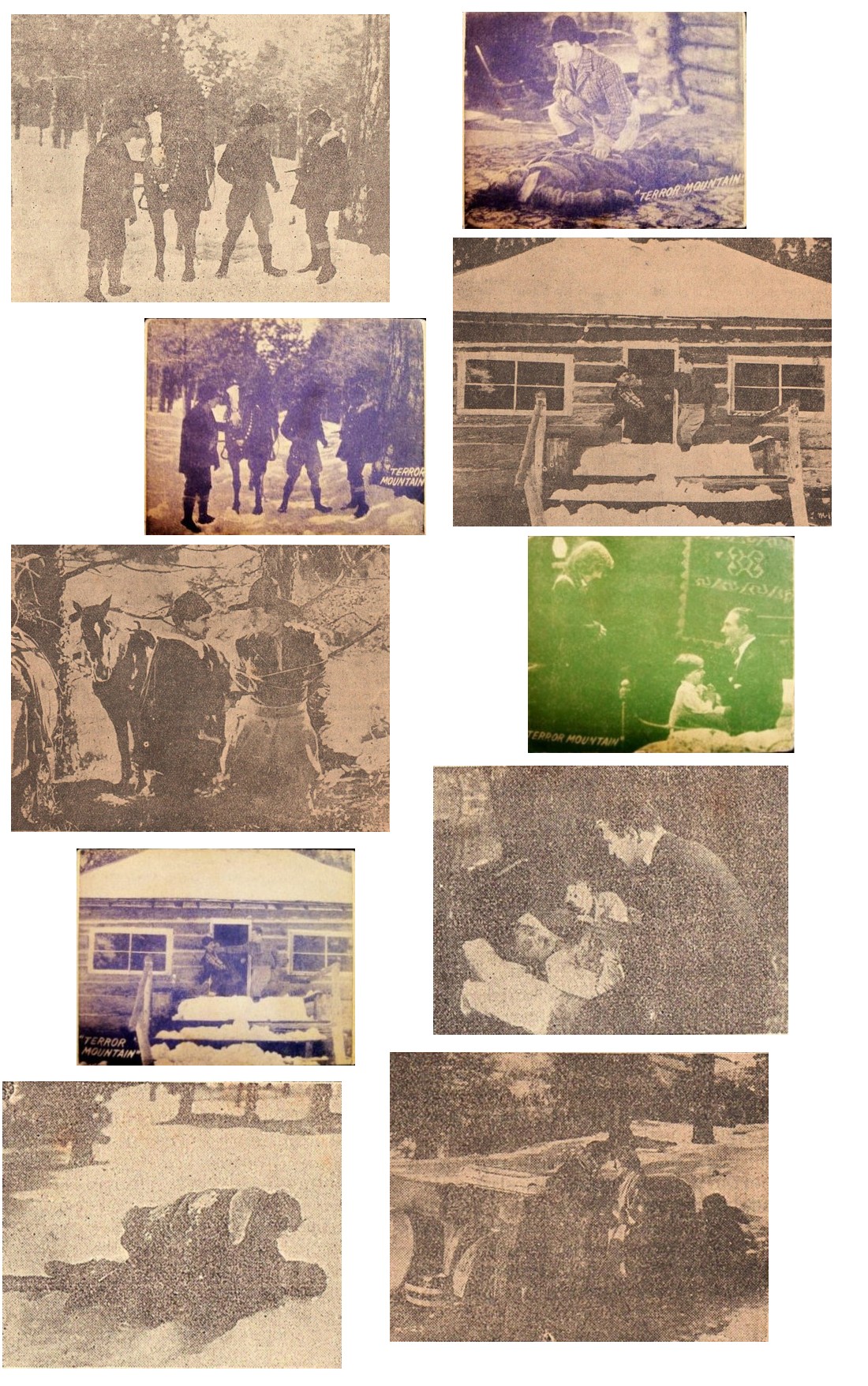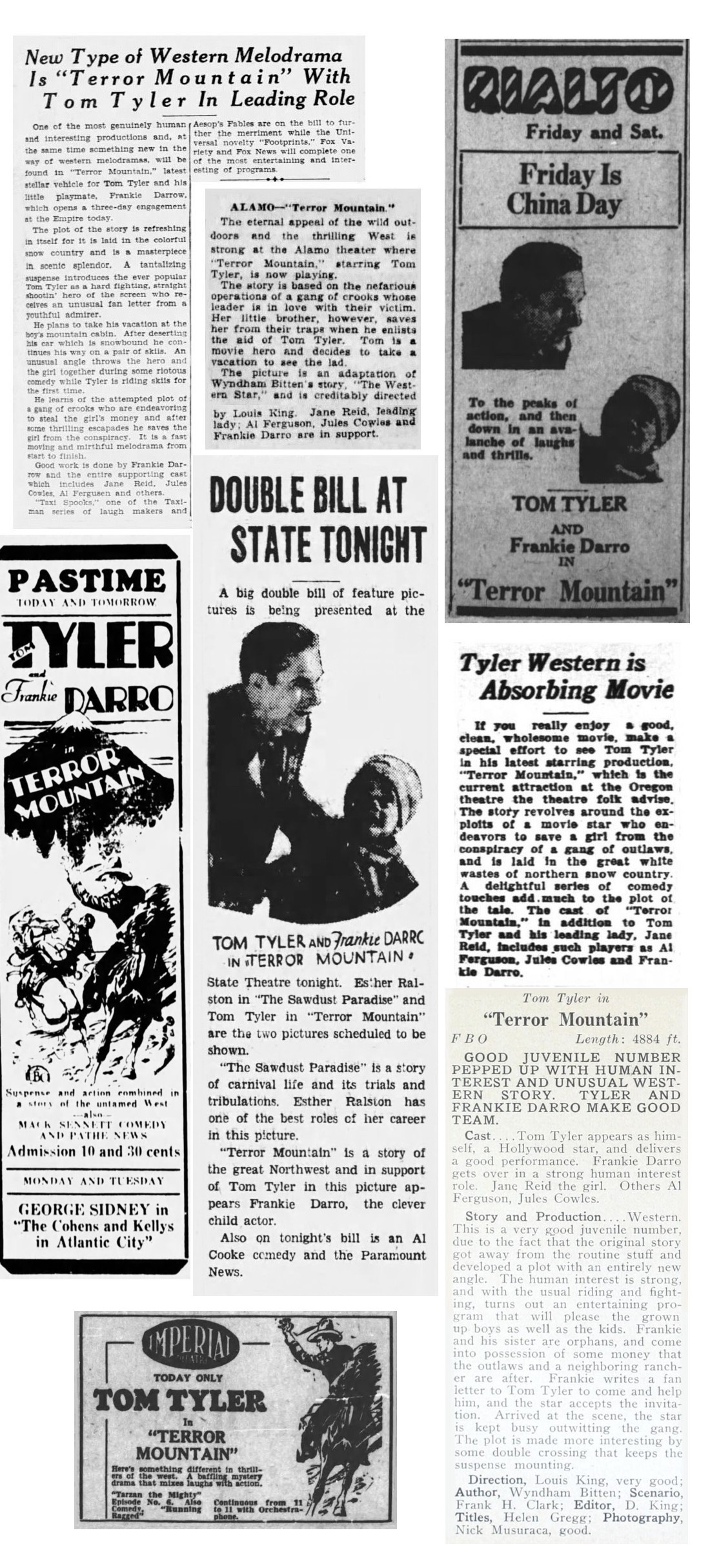 All composed text on this page is copyright Aventuras de Tom Tyler, 2018-2021.
No copyright infringement upon Tom Tyler's handsome face and gorgeous physique is intended. Neither is one intended upon his work. This website will always be ad-free and affiliate-free.

2015-2022 Aventuras de Tom Tyler