Red Hot Hoofs (1926)
Why did you talk me round
til love's sweet caress I found
- C. Scott & D. Dyer
Director: Robert De Lacey
Writers: F.A.E. Pine, George Washington Yates Jr.
Cast:
Tom Tyler as Tom Buckley
Frankie Darro as Frankie Buckley
Dorothy Dunbar as Frances Morris
Stanley Taylor as Gerald Morris
Harry O'Connor as Jim Morris
Al Kaufman as Battling Jack Riley
Barney Furey as Al Skelly
Status: Lost
Length: 4681 feet
Tom Buckley is a ranch foreman in love with Frances Morris and when he discovers that her brother Gerald stole money from a bank, does what he can to help him pay it back. Tom responds to a local advertisement seeking a man strong and brave enough to endure three rounds in the boxing ring with Battling Jack Riley, a prizefighter who happens to be exhibiting in town. The ad promises a thousand dollar prize to the willing contender, and knowing that he has what it takes to be a fighter, Tom responds to the ad and accepts the offer. His little brother Frankie encourages him to go through with it, who is his biggest and best supporter in everything he does.
On the night of the exhibition, Tom gets in the ring with Battling Jack Riley and withstands three rounds with him, endures a beating from the champion fighter but remains standing. Since Frances and Frankie accompanied Tom to the fight, Riley set his eye on Frances and takes a liking to her. At the end of the third round, Tom receives the $1000.00 prize, returns home with Frankie and Frances, and gives the money to Gerald who must return it to the bank. When Gerald is caught completely offguard, Riley shows up, kidnaps Gerald and also steals the thousand dollars. Riley is held hostage in a cabin on the ranch, and when Frankie sees the two of them, rushes to find Tom. Tom races on his horse to the cabin and in a knock-down drag-out fight, beats Riley into a pulp, frees Gerald, and wins the hand of Frances in the match. Tom receives a contract offer to be the new prizefighter but declines; he would much rather stay on the ranch with Frances and of course Frankie.
Al Kaufman, the man Tom Tyler took on in the boxing ring in "Red Hot Hoofs", was a heavyweight boxer in real life. Hailing from North Dakota, Al fought Jack Johnson, Al Palzer, and Luther McCarty during his career from 1905 to 1915. Individuals who have seen Tom Tyler's "Rip Roarin' Buckaroo" (1936) will have some idea of what Tom looks like dressed as a prizefighter and playing the role well. Many Hollywood trade publications mention the titles "Hearts and Hoofs" and "Cow Punching for Cupid" although neither are in Tom's existing filmography. Chances are "Red Hot Hoofs" was the final title for both of the previous title names. (Note: A late ID from The Film Daily August 20, 1926 shows that "Cow Punching for Cupid" was retitled "Tom and His Pals".)
Taglines:
A gripping story of flying fists - of the skill and cunning of the prize ring matched against the courage of an Arizona cowboy. Of the dauntless love of a fighting hero - who won- and lost - then won again. A tale of lost hopes and desperate endeavor. (The Daily Argus-Leader, Sioux Falls, SD, October 22, 1927)
A romance of the high sierras - sizzling with thrills! Bristling with action! A red hot western! (Oakland Tribune, Oakland, CA, February 20, 1927)
Sources:
Lansing State Journal
, Lansing, Michigan, February 19, 1927
Motion Picture News
, November 13, 1926
The Film Daily
October 31, 1926
Exhibitor's Herald
, December 25, 1926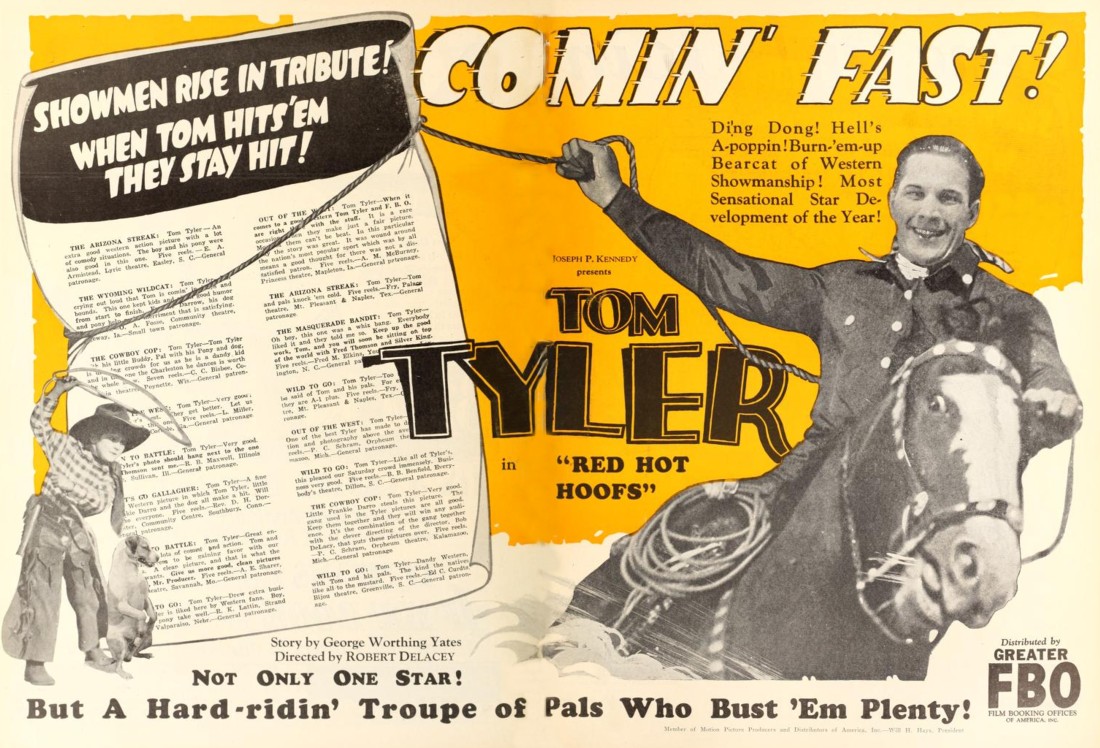 All composed text on this page is copyright Aventuras de Tom Tyler, 2018-2021.
No copyright infringement upon Tom Tyler's handsome face and gorgeous physique is intended. Neither is one intended upon his work. This website will always be ad-free and affiliate-free.

2015-2022 Aventuras de Tom Tyler