Out of the West (1926)
Grade one, hot shot
You're better than the rest
- C. Scott & D. Dyer
Director: Robert De Lacey
Writers: Wyndham Gittens, Frederick Arthur Mindlin
Cast:
Tom Tyler as Tom Hanley
Bernice Welch as Bernice O'Connor
L.J. O'Connor as Jim Rollins
Ethan Laidlaw as Bide Goodrich
Alfred Hewston as John O'Connor
Frankie Darro as Frankie O'Connor
Gertrude Claire as 'Grannie' Hanley
Barney Furey as Trail Scout
Status: Lost
Length: 4609 feet
Tom Hanley is an unemployed cowboy who loves to play baseball and manages to get a job at the Bar X ranch. When he is not tending to his duties on the ranch he practices his swing. All that practice pays off when he is chosen to pitch for the big game which takes place on the ranch. What makes the game so exciting is the home team plays against a team whose members are cowboys at a rival ranch. To prevent the home team from winning, Tom is kidnapped by members of the rival ranch and held captive in a cave on the day of the big game. Frankie rescues Tom by distracting the guard at the cave entrance, throwing a rock on the guard's head from above. John O'Connor, the father of the girl Tom has a love interest in, places a bet against the game which favors the rival team. Once Tom discovers the nature of the bet, he puts his heart and soul into playing baseball, and not only does he win the game, but he also wins Bernice's hand in marriage.
Naturally "Out of the West" was a smash hit with any red-blooded American boy for its inclusion of the nation's most popular sport, baseball – and what boy would not want to see Tom Tyler portray a baseball player on the silver screen? One fascinating tidbit about the promotion of "Out of the West" claims Tom Tyler played baseball in real life and received an offer from the Brooklyn Dodgers before they relocated to Los Angeles. It is possible Tom spent time with the team in order to practice pitching correctly, for he took his learing new skills for the silver screen as seriously as he did when he had to learn how to ride a horse professionally.
Taglines:
Romance? Scads of it! Action? An ocean full! Thrills? Plenty - and then some! Novelty? We'll say so! Riding? You know Tom Tyler! Roping? The best lariat stunt you ever saw! Fights? Page Jack Dempsey! What? "Out of the West"! (The Sheboygan Press, Sheboygan, Wisconsin, December 21, 1926)
Riding - whirlwind dashes on fleet horses! Roping - the low swung lariat of the villain lying in wait! Romance - under western skies! Roars - furnished by the inimitable trio! (Modesto News Herald, Modesto, CA, December 25, 1926)
The picture is full of action, and has a novel twist by introducing Tom as a cowboy who loves to play baseball. (Modesto News Herald, Modesto, CA, December 25, 1926)
Sources:
Variety, November 24, 1926
Motion Picture News, April 1, 1927
Marshfield News-Herald, Marshfield, Wisconsin, December 17, 1926
Clarion Ledger, Jackson, Mississippi, February 12, 1927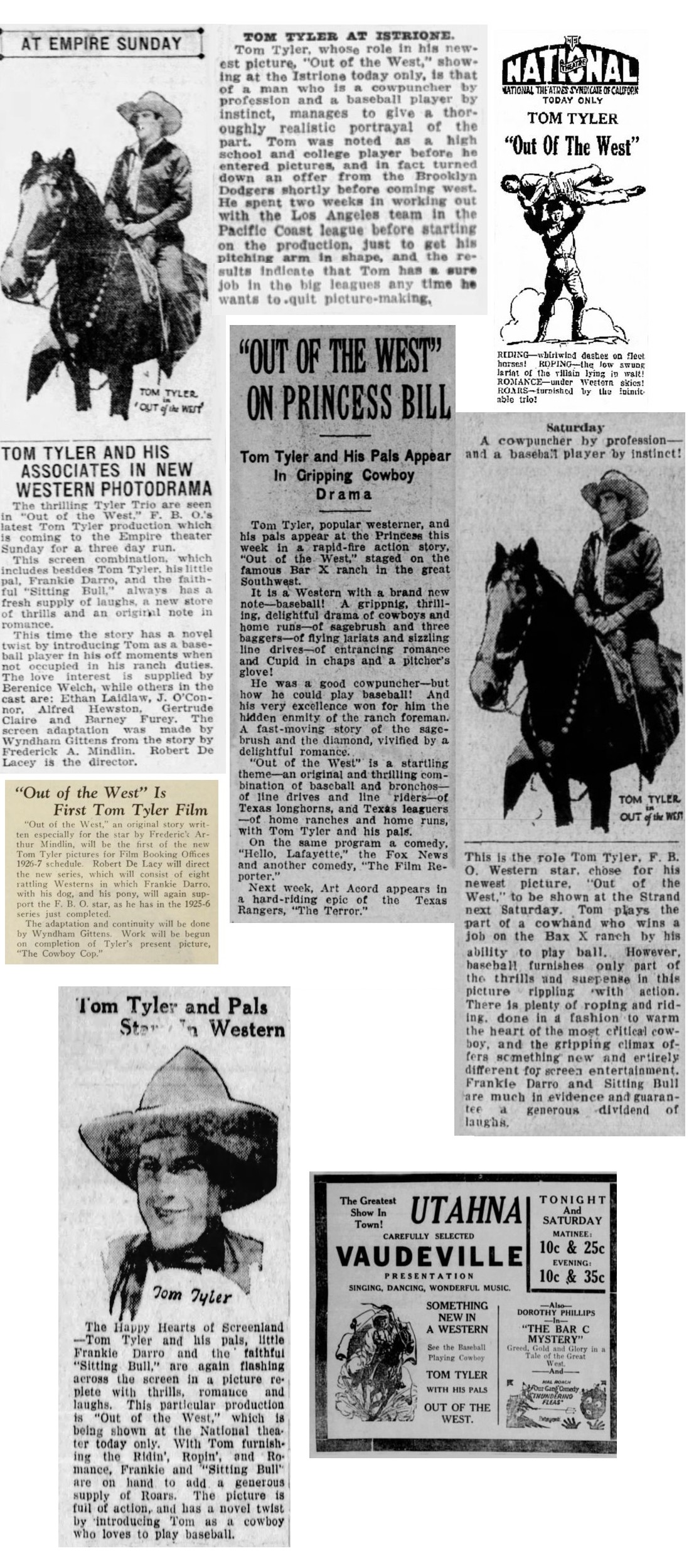 All composed text on this page is copyright Aventuras de Tom Tyler, 2018-2021.
No copyright infringement upon Tom Tyler's handsome face and gorgeous physique is intended. Neither is one intended upon his work. This website will always be ad-free and affiliate-free.

2015-2022 Aventuras de Tom Tyler