'Neath Western Skies (1929)
Bring out the best in me
bring out the best I've got
- C. Scott & D. Dyer
Director: J. P. McGowan
Writers: Sally Winters
Cast:
Tom Tyler as Tex McCloud
Hank Bell as 'Wildcat' Riley
Harry Woods as Jim Canfield
J.P. McGowan as Dugan
Bobby Dunn as Percival Givens
Lotus Thompson as Ann Givens
Alfred Hewston as James Garfield
Barney Furey as Lem Johnson
Status: A fragment with a total length of 1225 feet (in two segments) is at the Library of Congress.
Length: 4924 feet
Tex McCloud is a ranch owner in Tulare County, Texas, and discovers there are substantial oil deposits on his property. Before he knows it, two unscrupulous businessmen, Dugan and one of his men, get word that there is oil on Tex's property and scheme to steal the drilling equipment from Tex. These drills are made of carbon diamond, and are the very best, safely stored in a cigar box. The oil drillers get ahold of the valuable drills, and replace them with substandard drills in the same box, throwing off Tex, who discovers that the drills cannot be efficiently used for drilling oil. During this time. Tom becomes romantically involved with Ann Givens, the sister of a neighboring rancher, Percival Givens. Percival has one unusual hobby: butterfly collecting, often mounting ones he caught himself. Ann often provides companionship, helping Percival net and mount the butterflies in empty cigar boxes. Tex is very fond of Ann, and Percival helps him try and solve the case. At one point, Tex comes across a cigar box thinking his carbon diamond drills are in them, but is surprised to discover it contains mounted butterflies – which belongs to Percival.
Dugan and his men kidnap Ann and keep her hidden, prompting Tex to find and release her. Tex catches Dugan and his gang in the act, and beats them up, getting them to confess where they put his carbon diamond drills. The Givens siblings rush to seek the local sheriff, and have him arrest Dugan and his gang for stealing Tex's drills with the intent of stealing the oil off his property.
"'Neath Western Skies" is the last silent film Tom Tyler made for Syndicate in 1929 with J. P. McGowan directing. Some fun trivia: In France, this silent film was released under two different titles: "Le Lion du Ranch" and "Le Vol du Diamant".
Taglines:
Tyler in a romance of the west - Thrills. Action. Drama. (Palladium-Item, Richmond, IN, August 22, 1930)
A wildcat Texas oil field town with Tom Tyler dealing justice to unscrupulous sharpers. Fast action and a glorious romance. (Valley Morning Star, Harlingen, TX, August 7, 1930)
Here's action, romance and comedy in the oil and ranch country. (Burlington HawkEye Gazette, Burlington, Iowa, February 14, 1930)
An absorbing western drama that will hold your interest from beginning to end. (Beatrice Daily Sun, Beatrice, Nebraska, February 20, 1930)
Sources:
The Film Daily, Dec. 15, 1929
Motion Picture News, January 25, 1930
Burlington HawkEye Burlington, Iowa, February 14, 1930
Denton Record-Chronicle, Denton, TX, April 17, 1931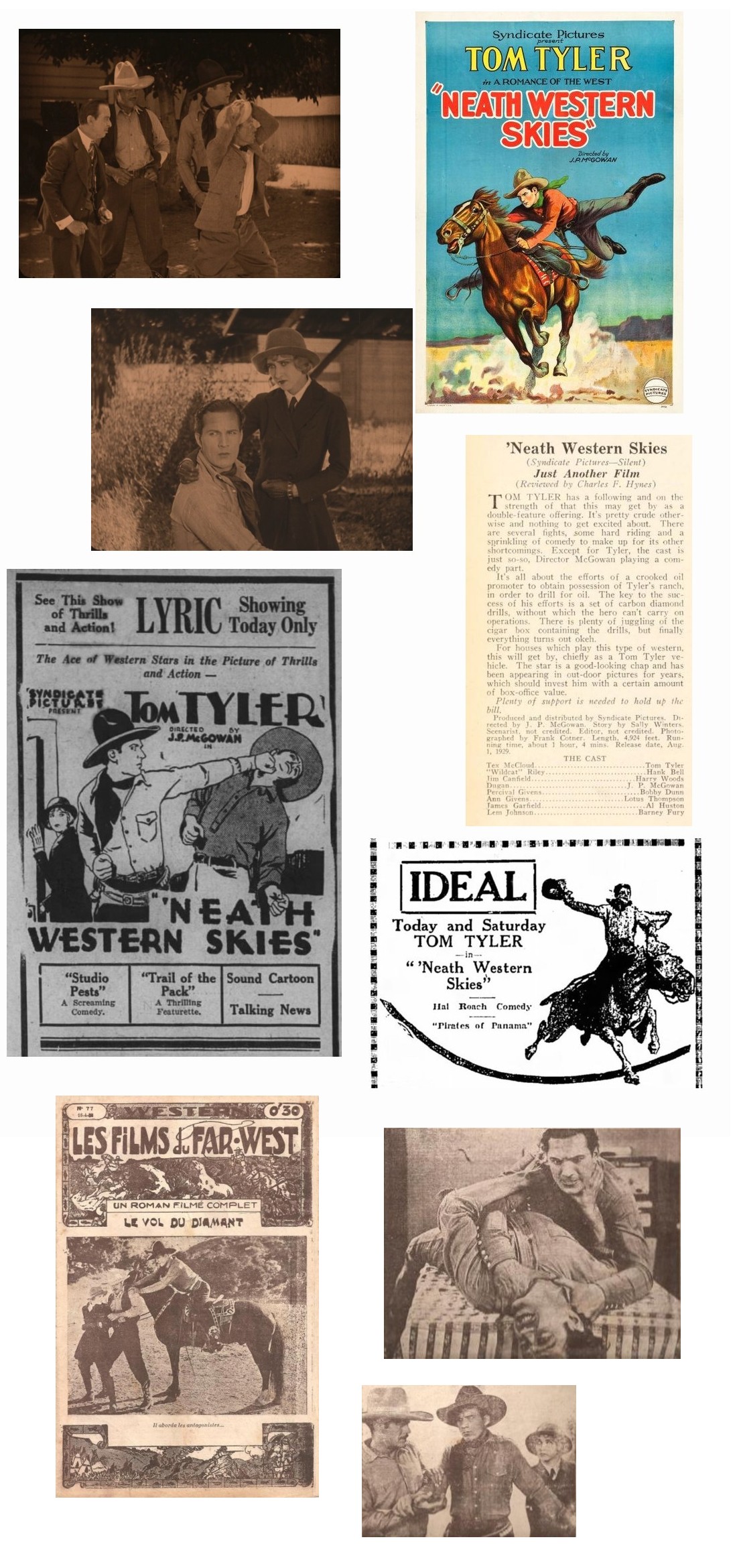 All composed text on this page is copyright Aventuras de Tom Tyler, 2018-2021.
No copyright infringement upon Tom Tyler's handsome face and gorgeous physique is intended. Neither is one intended upon his work. This website will always be ad-free and affiliate-free.

2015-2022 Aventuras de Tom Tyler