Idaho Red (1929)
Roundabouts and children's shouts
and any doubts
that ever filled my mind
- C. Scott & D. Dyer
Director: Robert De Lacey
Writers: Frank Howard Clark
Cast:
Tom Tyler as Andy Thornton
Patricia Caron as Mary Regan
Frankie Darro as Tadpole
Barney Furey as Dave Lucas
Lew Meehan as Sheriff George Wilkins
Status: Lost
Length: 4769 feet
Andy Thornton is a Marine corps soldier who co-owns a ranch with Mary Regan who leaves for military service in France. When he returns home, he discovers that his three ranch hands have been running a counterfeit money operation on his property during his absence. Much to Andy's surprise, he learns that the operation is located in a previously unknown cellar of his ranch house. He questions his foreman Dave Lucas about it, to which Dave denies any knowledge of it, and even accuses Tom of secretly having the counterfeiting done while he was away in France. Andy further discovers this cellar remained hidden since his purchase of the ranch, and was only recently uncovered during an excavation while he was away.
While Andy attempts to get the law involved to catch and prosecute the counterfeiters, he meets a small orphan newsboy while in the city one day. Named Tadpole, the newsboy has no real home to go to and he is very poor. Andy takes him in, and together with Mary, they try to solve the case. Unfortunately for Andy, the sheriff comes along to check out the money counterfeiting activity that has been taking place in his cellar – and arrests him. Tadpole rushes to Mary in seeking her aid to help set Andy free and clear his name. Once Andy is out of prison and catches Dave Lucas in the act of counterfeiting money, the two men brawl, soon with the other two ranch hands joining in against Andy as he takes on all three men at once. Mary and Tadpole race against the clock to get to the sheriff's and have him return with them to arrest Lucas and clear Andy's name.
"Idaho Red" is one of two 1929 silent films where Tom Tyler has additional children in addition to Frankie Darro co-starring with him. During the filming of "Idaho Red", many of the cast members were injured in some manner – with Tom having a very close call with death: prolonged exposure to spilled chemicals used to create a special effect when he is tied up in the cellar by the counterfeiters. Patricia Caron and Frankie Darro were involved in a car accident on the set, which resulted in some bruises and scratches. "Idaho Red" is the first silent film Tom made while returning from the Olympic games try-outs for the weightlifting team.
Taglines:
Packed with mystery and redblooded action – wrongfully accused of counterfeiting bogus money – a whirlwind thrill – a two fisted fighter. (Lebanon Daily News, Lebanon, PA, October 3, 1929)
Cowboys and counterfeiters! - Darkest of intrigue under azure Idaho skies – The ridin', fightin', shootin' Tyler smashes his way through his greatest of pictures! (News-Journal, Mansfield, OH, December 26, 1929)
Framed by a band of counterfeiters – but boy, how he fights back! (The Orlando Sentinel, Orlando, FL, June 1, 1929)
Sources:
The Film Daily, April 28, 1929
Muncie Evening Press, Muncie, IN, May 18, 1929
News-Journal, Mansfield, OH, December 26, 1929
The Union County Journal, Marysville, OH, July 11, 1929
The Evening Herald, Klamath Falls, OR, September 9, 1929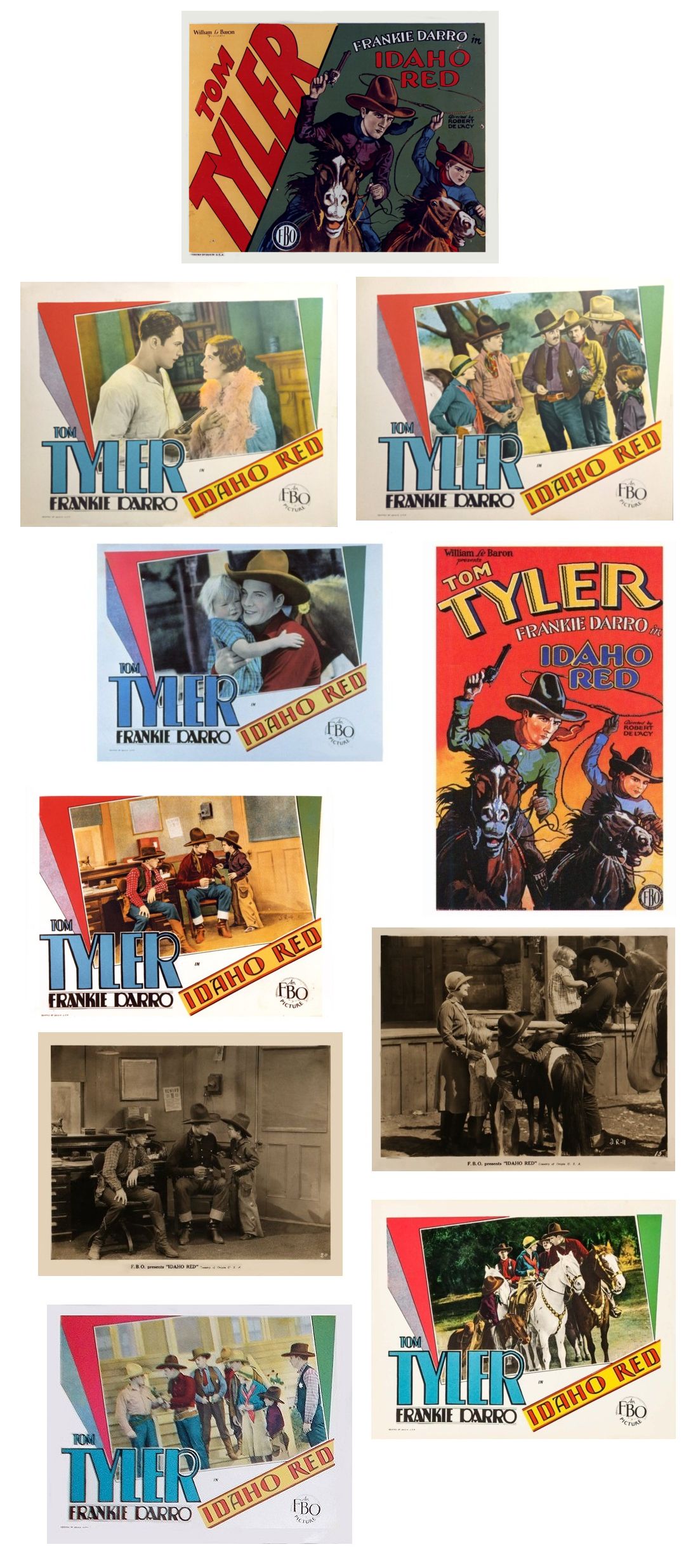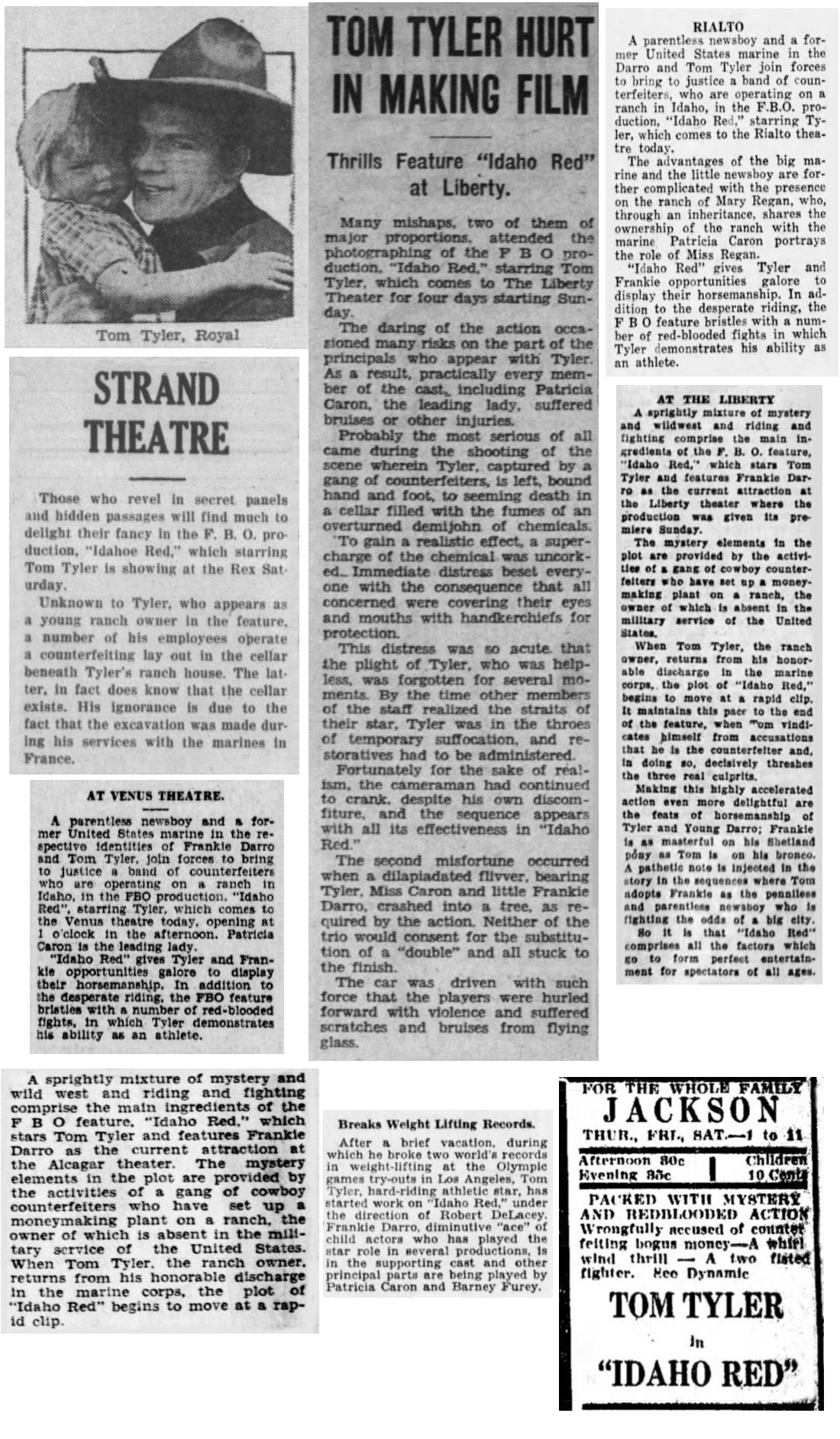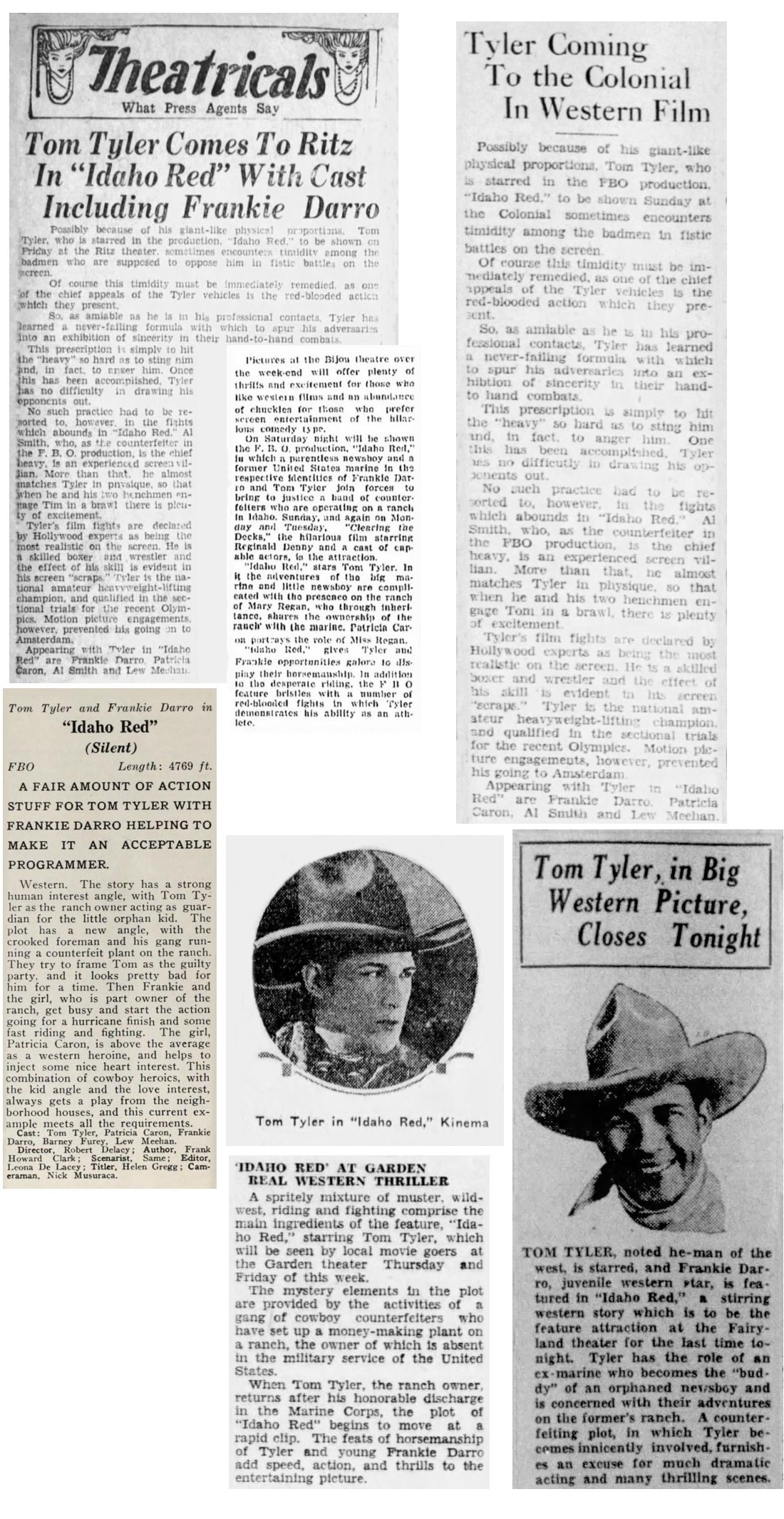 All composed text on this page is copyright Aventuras de Tom Tyler, 2018-2021.
No copyright infringement upon Tom Tyler's handsome face and gorgeous physique is intended. Neither is one intended upon his work. This website will always be ad-free and affiliate-free.

2015-2022 Aventuras de Tom Tyler