Galloping Thru (1931)
Come on baby
make up your mind
- C. Scott & D. Dyer
Tom McGuire returns to his home town only to witness his father, an express agent, get shot dead during a robbery. While in pursuit of the gang responsible for his father's death, Tom ends up wounded himself, abandoned on a trail. Once he recovers, Tom resumes battling with the robbers, knocking them off one by one. One of Tom's supporters, Janice Warren (Betty Mack) soon becomes emotionally attached to him, when she gives aid to him during his recovery from being shot. Tom of course returns his love to her, enabling them to marry once he eliminates the gang who terrorized his hometown.
There is no shortage of physical stunts on Tom's part in "Galloping Thru": his leaps and coordination is top notch, with the more risky stunts performed by Cliff Lyons (who appeared in a number of Tom's silent films for Syndicate). To be sure, these stunts plus the fistfights which are the spice in this otherwise standard western plot. Perhaps the most exciting scene is where Tom is driving a runaway stagecoach which goes over a cliff and crashes but manages to keep the horses that were driving it from going over the cliff with it.
In addition to "Two Fisted Justice", "Galloping Thru" was also widely distributed in western Europe, particularly France. A number of posters, in the French title "La Diligence Infernale", exist.
"Galloping Thru" remains a lost film.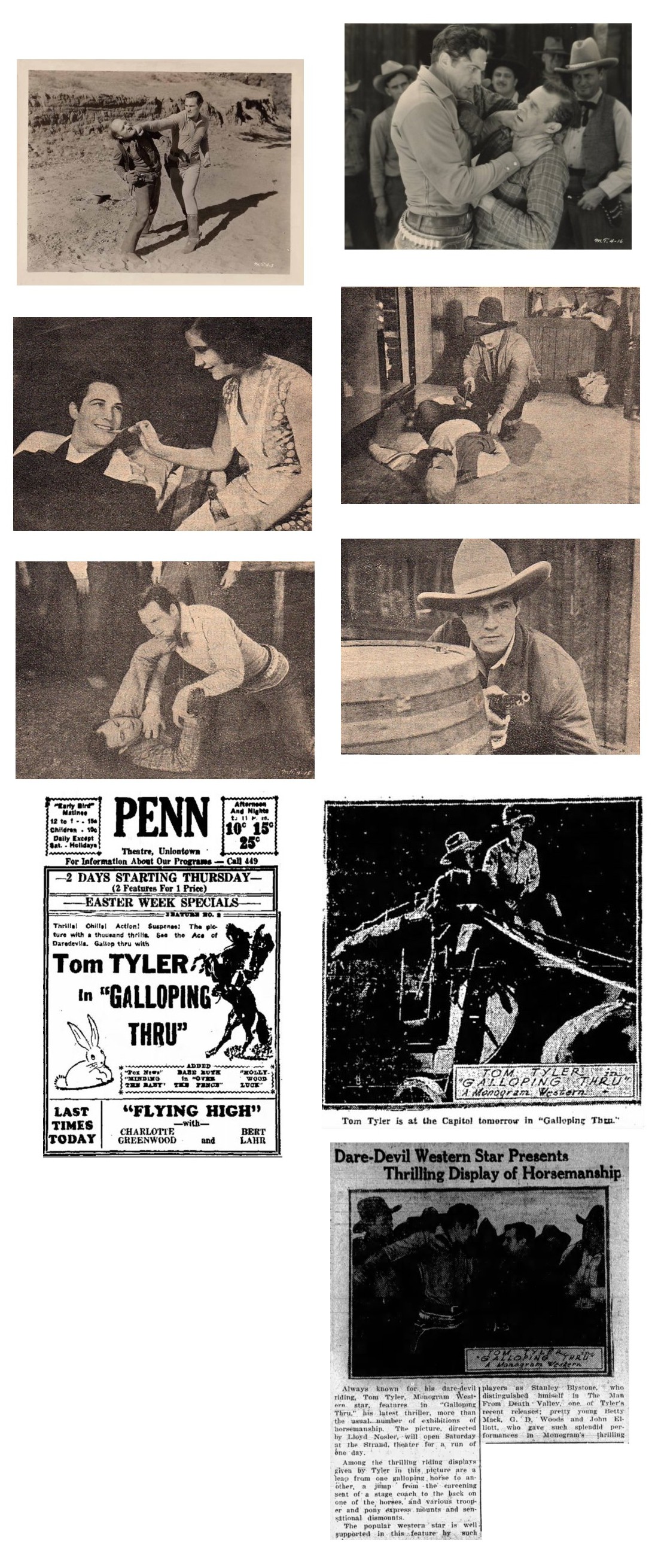 All composed text on this page is copyright Aventuras de Tom Tyler, 2018-2021.
No copyright infringement upon Tom Tyler's handsome face and gorgeous physique is intended. Neither is one intended upon his work. This website will always be ad-free and affiliate-free.

2015-2022 Aventuras de Tom Tyler