Cyclone of the Range (1927)
We dance to hypnotize
lost in each other's eyes
- C. Scott & D. Dyer
Director: Robert De Lacey
Writers: Oliver Drake, F.A.E. Pine
Cast:
Tom Tyler as Tom MacKay
Elsie Tarron as Mollie Butler
Harry O'Connor as Seth Butler
Richard Howard as Jake Dakin (as Dick Howard)
Frankie Darro as Frankie Butler
Harry Woods as The Black Rider / Don Alvarado
Status: A complete print of this silent film is at Filmoteca Catalunya in Barcelona, Spain
Length: 4800 feet
Tom MacKay is a cowboy "out Sonora Way" who receives news that his older brother has been murdered by The Black Rider. While he is trying to figure out just how to capture the menace, he takes a job at a ranch and soon discovers that the foreman, who also happens to own a nearby ranch, is Don Alvarado. Alvarado has the same romantic attraction to Mollie Butler, as does Tom. Mollie is the daughter of Seth Butler, who is Tom's employer. At some point while Tom is tending to his duties on the ranch, he receives word that he was the one who murdered his brother, and mistaken for The Black Rider. It is not long before Tom comes up against a lynch mob, then arrested and put in jail before his trial date, for a number of people want to see him hanged. Tom's pal Frankie, the brother of Mollie Butler, comes to visit him and rescue him so that they can track down the real Black Rider. Once Tom gets himself cleared of all charges, he heads straight for Alvarado. The most climactic scene of "Cyclone of the Range" is when Tom gets involved in a major fistfight with Alvarado and his gang. Alvarado is revealed to be The Black Rider and is arrested by the sheriff and taken away to jail.
"Cyclone of the Range" is action packed and contains much humor, most frequently in the lines Frankie Darro has. Tom performs a number of stunts on his horse Flash while in high-speed pursuit after the bad guys, and Harry Woods turns in an excellent peformance as the elusive Black Rider. One famous scene from this silent film shows Frankie pulling his gun on Tom, who has his hands up in the air, which was reproduced on an ESCO arcade card.
Taglines:
A smashing story of the west (The Independent, St. Petersburg, FL June 1, 1927)
Action hot off the desert! Romance of a cowboy and a ranch queen. (The Indianapolis Star, Indianapolis, IN, August 14, 1927)
A tale of shadowy desert trails and a grim search that ended unexpectedly! (Santa Cruz Evening News, Santa Cruz, CA, August 6, 1927)
A smashing, absorbing story of the real west, crammed with action and breathless moments and clever in its comedy. (The Call-Leader, Elwood, IN, May 20, 1927)
Sources:
Motion Picture News, May 6, 1927
Variety, May 4, 1927
The Film Daily, May 1, 1927
Wilmington News Journal, Wilmington, OH, September 2, 1927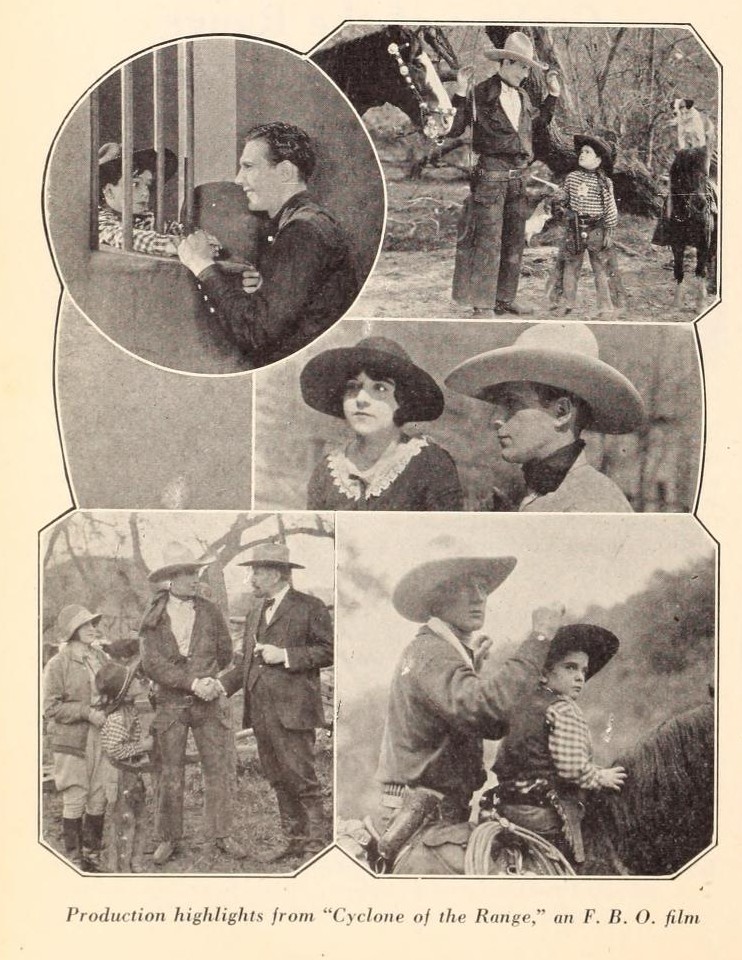 All composed text on this page is copyright Aventuras de Tom Tyler, 2018-2021.
No copyright infringement upon Tom Tyler's handsome face and gorgeous physique is intended. Neither is one intended upon his work. This website will always be ad-free and affiliate-free.

2015-2022 Aventuras de Tom Tyler